I get so many emails about Amazon categories and keywords that I thought it would be useful to dig into all the opportunities at your fingertips, and clear up some confusion out there too. Useful for me, that is. Now I'll have something to point people to! Should be useful for you too, even the old timers, because I bet there's a least one hack in here you didn't know about, and smart use of the category system can greatly increase your visibility on Amazon — critical for all authors, doubly so if you are in KU.
I'll start basic then drop some tantalizing secret hacks.
Let me just note first that a version of this rather handy post first went out to my mailing list a few months ago. If you're not signed up, you aren't just missing out on stuff like this, you also missed the entire (free!) series I just did on BookBub Ads. And without blowing my own oboe, I think I'm doing a few things with BookBub Ads that are a little different from the norm. So you don't overdose on FOMO and also miss the (free!) series on Facebook ads, go here to get free tips and tricks in your inbox every Friday and a free book too.
I'm not calling it the deal of the year; you said that!
Aaaanyway, if you have read Amazon Decoded, you will already understand how central categories are to the Kindle Store and the Amazon recommendation engine generally, and how you should approach them to increase your visibility, which will, in turn, increase both your sales and your promo halo. !
Amazon Decoded (and Let's Get Digital) explained the importance of drilling right down to the most granular sub-category for your work that you can find — and the usefulness of generally surveying the areas of the Kindle store most relevant to your kind of books so that you can determine several such candidates.
Both books outlined a bunch of strategies for choosing categories which I won't go into here. And then Strangers to Superfans highlighted the serious dangers of picking inappropriate categories for your work. In short, anything that isn't absolutely your target audience should be avoided or there is a serious danger of Also Bought pollution.
I think most people get all that, so I won't rehash those points (feel free to check out any of those books if you want more detail though). Where many people seem to be getting tripped up is with various quirks which can prevent them from getting into target sub-categories. Fear not! We have solutions…
Three Flavors of Category Confusion
First, the Kindle Store is broken into different categories and sub-categories than those in your dashboard on KDP. (Here comes the science bit: the categories in your publishing interface are, for the most part, book industry standard category breakdowns known as BISAC Subject Codes. Amazon has determined that readers break up genres a little differently, and the BISAC system is a legacy/trad one which is slow to move with reader tastes and add new sub-categories, so Amazon is happy to do its own thing on the Kindle Store side.)
Second, the Kindle Store is sometimes broken into slightly different categories and sub-categories in each country. To an extent, at least. Amazon has done a little localization in places to take account of regional tastes. The details aren't so relevant here, I just want to note that international stores can be different so you don't go crazy looking for something which doesn't exist.
Third, the keyword category system is a bit odd. Not all of it works as Amazon states, and there are extra, secret categories which aren't listed on the KDP Help pages. SECRET MENU ITEMS, PEOPLE.
And then all those factors are compounded by people never being 100% sure which categories they are in, especially now since Amazon nixed the helpful list of categories that each book is in from the bottom of product pages.
But we won't be foiled so easily. Tally ho!
Three Ways To Get Into Your Chosen Sub-Category
I recommend running through them in this order too:
1. KDP Dashboard. In the publishing interface on your KDP Dashboard, you get a choice of two categories. Some will let you drill down into quite niche sub-categories, others won't — even if they exist on the customer side. What you need to do is choose the "parent" category above that sub-category you are trying to get into. As mentioned in that technical digression above, the menu you get to pick from is an industry standard BISCAC list, not exactly reflective of how the Kindle Store is broken down. Sooooo choose the parent category you want and move on to the next step. Just keep in mind that in many cases you may want to avoid a "childless cat"— a category which has no sub-categories, as this can be hard to place in — and you will definitely want to avoid those last few "ghost cats" still knocking around — choices which don't actually exist in the Kindle Store! Definitely don't want to waste one of your two choices at this stage. We can finesse with the next two steps.
2. Keyword Categories. Smart keyword choices can flesh out the parent categories you have chosen at the first stage. I think Amazon now permits a maximum of eight or ten, but you may not go that far as you will always be seeking to keep things relevant (which is why I'm not butting up against that limit, and am not entirely sure which it is). You simply may not have that many appropriate keyword categories you can shoot for. This list is here — scroll down to "Categories with Keyword Requirements." It's a good idea to check on this list periodically as Amazon tends to quietly add to it, meaning you can sometimes find a little niche which is underpopulated. Here's where I'll earn my wages though: the list isn't comprehensive (and so we can be comprehensive, there are also some rather big mistakes in that list). Most importantly, there are secret keyword categories not listed here. In short, if you see a sub-category on Amazon that doesn't have a keyword category, try and guess at the keyword which might trigger appearance in that sub-category and you might get lucky. I'll give a specific example of this below, in case that is confusing.
3. KDP Customer Support. If you see a sub-category that you can't get into via the dashboard or keyword categories, you can simply email KDP and ask. Make sure to give them the full category path in your email or they probably won't do it. It can be a bit hit-and-miss in general. Most of the time they will just add the category. Sometimes they say No. There's little point arguing with someone, just wait a couple of days and email again and you'll get someone else. SECRET #2: you can get extra parent categories this way if you are lucky. Don't get greedy though, if you push it to far, not only can they turn you down, they may also strip away any extra categories you have. Plus, you always want to keep it relevant to protect those Also Boughts, remember?
To summarize the process, and ensure you follow the suggested order: 1) Pick the most relevant parent categories in your KDP dashboard (and drill down where it lets you). 2) Augment those choices with specific keywords — and experiment here to try and get into some sub-categories not listed. 3) Email KDP to get into those sub-categories which don't have keyword triggers.
But let me stress this one more time: always keep it relevant to your book. Just because you have some banging that doesn't make it a romance. If you squat in inappropriate categories, you can get crappy Also Boughts, piss off readers, and annoy your colleagues who genuinely are in that category and trying to chart there. A great combo.
Category Case Study
That's all pretty theoretical so here is a concrete example.
Historical fiction is a competitive category, where you need to be ranked around 2000 or higher on Amazon to hit the very back of the chart. And that might take, I dunno, 60-80 sales a day, depending. Not nothing. Most authors in that niche will be desperately seeking out sub-categories there so can get some level of visibility when selling at a lower level, and even those hanging out permanently at the higher rankings will want the extra visibility that also appearing in a sub-category bestows.
However, the KDP dashboard doesn't let you choose any Historical Fiction sub-categories. All you can pick is the parent category of Historical Fiction. So pick that, and move on to Step Two – Keyword Categories.
Here you will run into another problem right away. Sometimes the keyword category choices are… weird. They don't match what's in the Kindle Store. Look:

That's the supposed choices for keyword categories. But here's how the Kindle Store is actually broken down: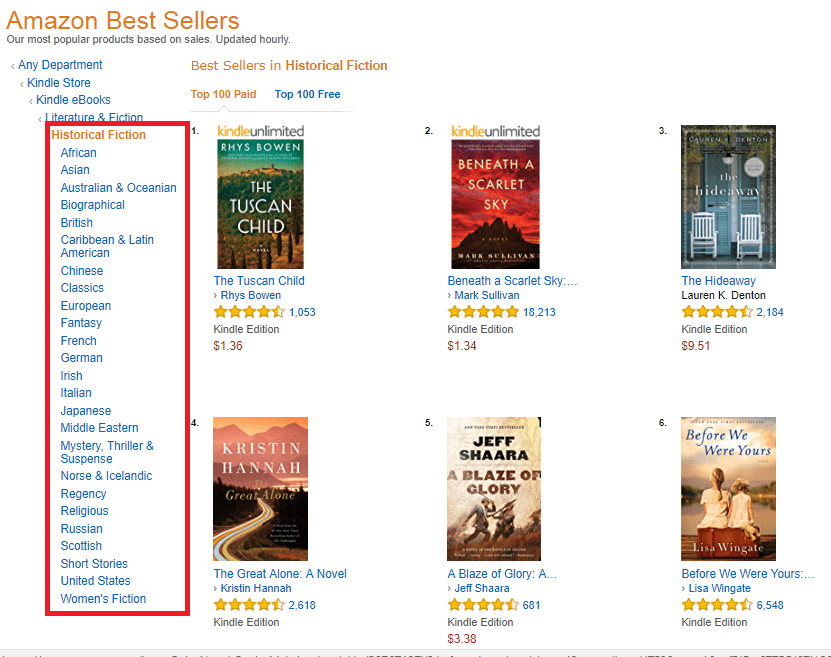 Super Technical Hack to the rescue: just guess the trigger word!
I'm not kidding. Sometimes it's really obvious, sometimes it's a related word or a touch more cryptic. For example, "Irish" will get you into the Historical Fiction > Irish sub-category… as long as you have "Historical Fiction" itself as one of your parent categories selected in the KDP dashboard.
But you'll need to experiment as it isn't always that easy. Which brings up…
Check Your Work
How do you know which categories you made it into? Simple!
1. Go to the Popularity List for the Kindle Store.
2. Search for your ASIN in the box up top.
3. Click on the categories which appear on the left to see which sub-categories you're in.
All this might sound like a giant pain in the ass. It can be! But like all metadata-related issues, it's "set and forget" — meaning you do the boring stuff once and then you will continually benefit from it. And you only need to review it periodically to see if you can add a little extra footprint.
Just remember to always, always keep it relevant. Aside from screwing your Also Boughts and pissing off readers (and writers) by being in the wrong categories, given the current climate, it wouldn't be a huge surprise if Amazon started policing metadata a little more closely so we end up with everything in the right place.
One last thing…
I hope you enjoyed this post! I just wanted to let you know that I send out exclusive content every Friday to my mailing list subscribers.
I talk about the latest tricks with Facebook Ads or BookBub Ads, I also get into topics like content marketing, reader targeting, and everything else under the sun that pertains to building audience and reaching readers.
By signing up to my list, you get access to the all the old emails too, as well as sneak previews of upcoming books (meaning you get the jump on the latest tricks strategies of everyone else), and exclusive discounts too.
You also get a FREE copy of Following – a book that you can't get anywhere else! I strongly recommend that you join thousands and thousands of authors and sign up today because I have some really special treats coming soon.