Here's how to make sure you get my blog posts – because people are having issues and missing some!
If that doesn't apply to you, then maybe check out this Wordslinger podcast I did with Kevin Tumlinson a couple of weeks back. I think the most interesting part might be when I talk about what first made me successful (a deep connection with my readers), how I accidentally moved away from that over time, and how I'm winning it back.
Okay, on to the riveting topic of the day! First, off I have two things you could theoretically be subscribed to and I want to make sure everyone has the thing they want and is getting all the updates – as I've had reports of issues.
1. My weekly email newsletter. This doesn't appear here on this blog, this is a private email newsletter that goes out every single Friday to several thousand lucky ducks. It has a deep marketing focus: each week you get at least one solid, practical, actionable tip to help your business, usually something directly aimed at building audience and reaching readers. It's free AND you get a copy of Amazon Decoded as a sign-up bonus. Grab that here.
If you prefer to read a little bit more about Amazon Decoded first, you can do that here, just be aware that my weekly newsletter is the ONLY place you can get that book. Fiendish, I know. (You can totally sign-up, grab the book, and then unsubscribe. I actually don't mind at all.) If you are directing anyone else to sign up, just point them to that page, or this post, or the big orange box on my homepage and elsewhere. It's pretty hard to miss!
Most people are getting the emails (hooray!), but to 100% ensure that you get them every week, and they don't go into spam or the dreaded Promotions folder, then follow these Whitelisting Instructions. And if you missed my email last Friday on why whitelisting is important and how you can do it with your own list, check it out here.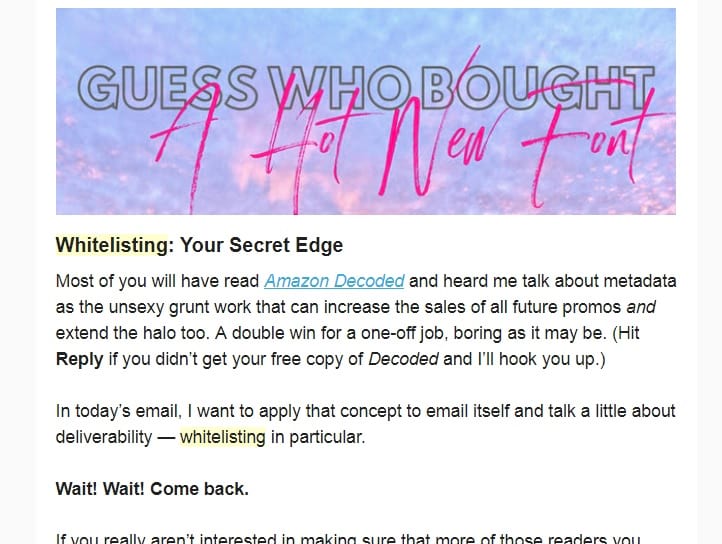 2. My blog. That's this. We cover anything and everything here. Marketing too, but also writing and publishing, scamweasels, the business landscape, and all things Amazon… as well as any handy tools and resources or bits of industry news I shake loose from the trees.
Not dogs eating noodles though, that's strictly for Twitter. Alas.
There are a number of ways to subscribe: email, RSS (green box in the sidebar), WordPress follow (you need a WordPress account for the this). Just look for the pink box in the top-right of any blog page, and in the footer of the site if you are on a phone/tablet. We'll find a better spot for that soon. Oh and a long-requested feature from the old blog has been implemented: you can choose to subscribe to comments on any post.
Important!
The 2,000 or so non-Wordpress users who are subscribed to this blog by email seem to be having no issues (please tell me if that's not the case!). The 42,000 or so WordPress users who follow this blog are another matter and your subscription could be futzed up. I know some of you are getting two notifications, and some aren't getting any at all. I think I have it figured out, and you might need to fiddle with your WordPress subscription settings.
Because WordPress does a few funny things with WordPress users. If you try and subscribe by email, it will kind of "convert" that into a WordPress Follow instead. Depending on your settings, this might mean you get an email as soon as I publish a post (the setting I recommend!), some kind of weekly digest where all 59 or whatever blogs you are subscribed to get lumped into one email where you never really see anything (I do not recommend this!), or just a notification in WordPress Reader – which most people never use, despite the best efforts of WordPress (don't recommend that either!).
It's frustrating because I put a lot of time and energy into building up this audience, and I would presume that anyone subscribing actually wants my updates! And Jetpack's customer service is unebelievably slow right now, so no help there.
If you are a WordPress user and following this blog, here's how you ensure you actually get those emails you want!
Go to Manage Following on WordPress.
Click the Settings tab for David Gaughran.
Switch on (if needed) Email Me New Posts.
Select "Instantly" because who wants to wait amirite?
(If applicable) remove any duplicate subscription you see.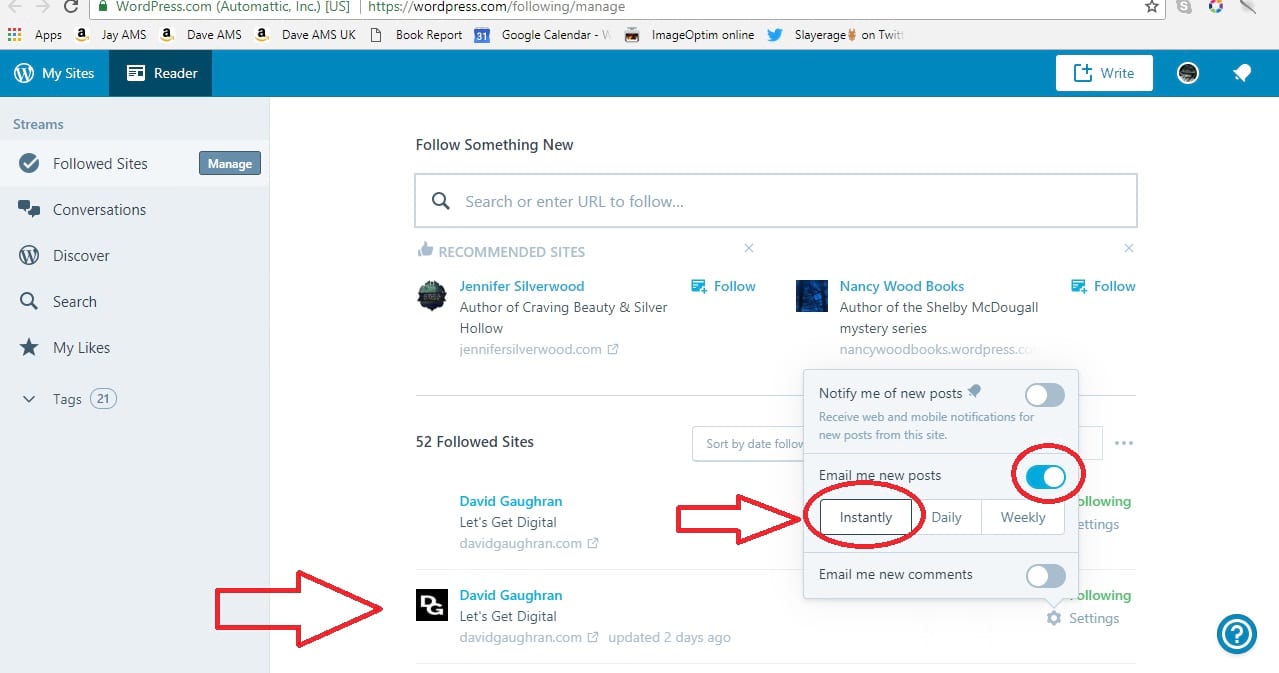 If you are a non-Wordpress user following this blog, you can amend your settings using the same steps on this page.
That's it! Now all the housekeeping is taken care of, we can resume normal service in the next post. THANK YOU JESUS, says everyone…