This blog has been a little quiet in 2020, but I've been beavering away at a veritable smorgasbord of stuff – including three new books for authors, which I can finally start talking about.
The headline news: three new books for authors, a huge surprise which isn't book-shaped, and then lots more cool resources coming to this here website; let's expose each of these projects to the merciless glare of publicity.
New Guide to Platform Building
First out of the traps is Following: A Marketing Guide To Author Platform and it is FREE – exclusively available as a bonus when signing up to my mailing list – which you can do right here.
(If you are an existing subscriber, check your inbox – you don't miss out!)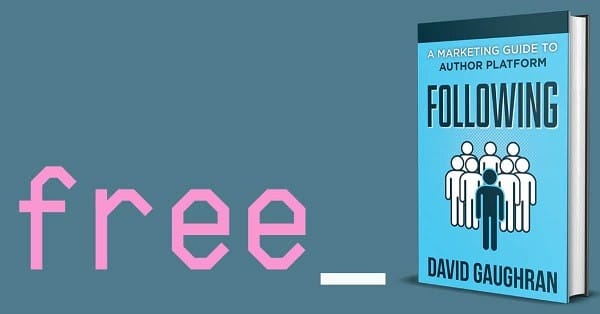 Here is the blurb:
From the author of Let's Get Digital comes a fresh, new approach to platform-building.

This free guide breaks down what an author platform is, exactly, and what it should contain—and what you can safely skip, so you can focus on writing more books. Authors are told to "build a platform," or "get their name out there"—advice that's as vague as it is useless.

Following will show you precisely how to build your author platform, walking you through every step involved so that you can build a real platform, a proper readership, and a sustainable career as a writer.
This guide will be of most use to newer authors, but I think there will be bits in there for experienced authors too – especially around using content marketing techniques to grow your mailing list and your Facebook Page. And it should be relatively well structured in terms of just diving in and reading the bits most relevant to your needs.
But there's another reason everyone should grab it. The very cool thing about Following – aside from being free – is that it comes bundled with a load of cool extras: step-by-step guides, How Tos, recommend resources and service providers, and video guides which will walk you through every single step of actual constructing your own reader-capture platform, right down to the best WordPress themes, mailing list providers, hosting companies, domain name services, reader magnet delivery – it's really comprehensive.
These bonus resources even cover how to grow your platform via free options, paid options, and then through spillover from growing your sales also… and then there's a list of the very best promo sites for freebies, discounts, listbuilders, and all sorts. There's even a place to ask questions too.
All these resources are all housed on a private part of this website, and you get access via your own personal copy of Following which you can get here.
Let's Get Digital – Fourth Edition
The new and re-imagined fourth edition of Let's Get Digital: How To Self-Publish, And Why You Should will launch very soon. In fact, you might see it pop up on Amazon and elsewhere before I get a chance to officially wet the baby's head over here. If you see a price tag on it, don't buy it.
Because it's going free. Yes, that's right – I'm launching the new fourth edition of Let's Get Digital as a permafree book. And I plan to keep it free too.
Let me give you a brief idea of what has changed: the structure of the book is completely different to previous editions, and it now just has ten chapters, each representing the ten steps to successful self-publishing, all of which have been refreshed and updated, and in most cases, completely rewritten to reflect the challenges facing authors in 2020.
And there's more! This new, free edition of Let's Get Digital is also bundled with a ton of cool extras: my recommended list of trusted professionals – editors, designers, formatters, proofers – to work on your book; a giant guide to formatting your own ebooks if you want to go Full Geek and do the coding yourself; the very latest best practices on metadata so you can use keywords and categories like a pro; tips on how to get more reviews; practical advice on business aspects like tax, ISBNs, copyright, and more; some really hands-on advice on marketing to help you find your first readers.
This page is an awesome resource and a really cool value add for Digital, and it's all rather cleverly designed too.
As always, my mailing list will hear about the launch first, and I'll let them now as soon as Digital 4 is live and freely available, so sign up here to get notified. (You also get a copy of Following – two birds, and all that.)
Amazon Decoded – Second Edition
My fellow grizzled vets won't be left out either. I've some very special things coming their way too. The new second edition of Amazon Decoded is done and written and next in the queue for the editor – so it won't be much longer now.
Before anyone asks me what has changed from the old, free edition, let me make it simple: everything has changed. Not a single word survived that first edition, handy as it was. The whole book has been rewritten from the ground up, and reflects the very latest knowledge of how the Kindle Store works, and how you can design marketing plans to take advantage of that.
That old 50-page book has been greatly expanded — it's clocking in at around 300 pages now, just to give you an idea of how much more substance there is.
Not only does it go deeper into the algorithms, and break down every aspect of the Kindle Store, and every place your book can get recommended to readers, it also goes into much greater detail on the exact types of marketing plans which will maximize your Amazon visibility, make you more discoverable to readers, increase your sales during a launch or promo, and then, rather crucially, stretch out that sales halo over a much longer period as Amazon takes over and does the selling for you.
I'm very excited to release this one. It will be going at $4.99, but my mailing list subscribers will get it for a very special price. Sign up here to make sure you hear about all these most-excellent Amazon-slaying strategies before everyone else.
Big Surprise Coming
This isn't even the biggest news. I'm working on something very special indeed which is going to drop at the same time as Let's Get Digital – i.e. imminently. It's something that's really going to help people on the marketing front in a very direct way.
More on all that very soon. Don't forget to grab your free copy of Following Enjoy!