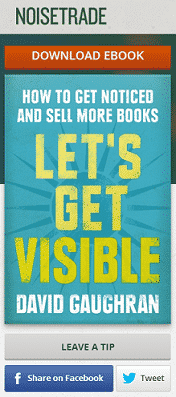 What if I told you there was a cool new way to share your work with the world that could help you build audience, boost your mailing list, and make money at the same time?
Welcome to NoiseTrade.
The idea is simple. Authors can upload ebooks (and audiobooks) and NoiseTrade's community of readers can download them for free – for as long as the author wants. There is a tip-jar, and you can suggest a figure, but it's not compulsory.
So it's pay what you want, but with a killer twist. In exchange for the download, the reader provides their email address to the author (in full knowledge they will be contacted in future).
In other words, it's a smart way to boost your mailing list, with the possibility of making a little money on the side too.
NoiseTrade is quite well established in the indie music scene. Artists like Aimee Mann, Josh Ritter, Sufjan Stevens and The Civil War have all used it to give away bonus material, b-sides, samplers, live recordings, and full albums too. Fans have the option of spreading the word about the free music, and also to leave a tip from between $1 and $100. But tipping isn't obligatory at all. Fans can choose to donate nothing.
The artists get the fans' email addresses – you can download a spreadsheet at any time – and 80% of the tips. NoiseTrade doesn't charge either readers or artists, so the 20% covers their end.
NoiseTrade moved into books a few months ago, and the site is starting to get a little traction. It's still much smaller than its music site, but I think it has huge potential – one of those rare ideas that benefits everyone involved: the company, the artist, and the fan.
There doesn't appear to be any restriction on what authors can upload – short stories, sample chapters, and full books all appear to be acceptable (I'm not sure about adult content, I couldn't see a reference to that). I don't think there are any guidelines surround excerpts and shorts, but I would strongly recommend flagging such content in the blurbs very clearly – perhaps even on the cover (all the excerpts/sample chapters seem to do that). You don't want someone donating $5 and thinking they're getting a whole book.
The upside should be obvious: it's a great chance to build your mailing list with people that should be genuinely interested in your work. The tipping aspect is a cool bonus, but my focus is on the sign-ups.
(Obligatory aside: if you don't have a mailing list, set one up right now because The Author With The Biggest Mailing List Wins.)
As for cons, I can think of only two. It could cannibalize sales somewhere like Amazon. And some might worry that making epub and mobi files freely available will increase piracy. I'll see how the former goes and the piracy aspect isn't a worry for me at all.
(Of course, there is also a chance that Amazon could price-match the NoiseTrade listing, but I'm betting they'll view it much more like Wattpad than a competing retailer. I'm happy to roll the dice, but you may be more risk averse than me.)
So, as a fun experiment, I uploaded Let's Get Visible to NoiseTrade last night. You can download it for free here – all you need to provide is your email address. Tipping is optional, but not compulsory.
Of course, you will be added to my New Release Mailing List. I will only email you when I have a new book out, your address won't be shared with anyone, and you can unsubscribe any time you like.
This post could lead to a deluge of spam, so let me say something quickly: I get lots of email from publishing start-ups who want me to write about their new… thing. I can't even check the sites out or respond at all – sorry, it's a time issue.
NoiseTrade was a recommendation from a friend who was raving about the site as a user – Evan Rail, an American author living here in Prague who has literally written the book on Czech beer.
Anyway, pretty cool idea, huh? I'd love to know what you think in the comments. I fully admit to doing this in the wee hours of the morning when I couldn't sleep so I may have missed something hilariously obvious.
Either way, don't forget to grab Let's Get Visible for free. I don't know how long I'll leave it up, so don't dilly dally!
And share! Share like the wind!
UPDATE: As noted in the comments, to comply with CAN-SPAM legislation and the requirements of mailing services like MailChimp you might want to keep the NoiseTrade email addresses separate from your mailing list until you send them a Welcome/Confirm Sign-Up message. This extra step might sound like a pain, but it will have the added benefit of weeding out anyone who doesn't want to be on your list (which you really want to do anyway). I also strongly suggest reading the comments for a discussion on how that contact should be handled and further detail on this.