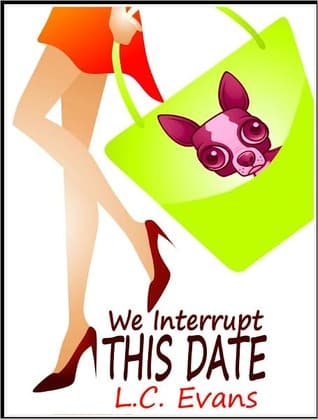 As some of you may know, indie author LC Evans lost her battle with cancer earlier this month. Simon Royle is organizing a tribute today, which happens to be the anniversary of when he interviewed Linda on IndieView.
Simon thought this would be good day to shine a spotlight on the work of LC Evans (author of We Interrupt This Date, one of Red Adept's picks for 2010), and has got several of the big indie reviewers to review one of her titles today.
In addition, he invited all the authors he interviewed on IndieView over the last year to participate in a giveaway to benefit Linda's family (who now have control of her KDP account).
The way it works is like this: if you buy any title by LC Evans today, you get one of our books for free. You will also be entered in a draw to win all 40 participating titles.
Full details on how to enter are here, and you can enter as many times as you like. You get to choose between work in all genres from Barbara Silkstone, Gary Marshall, Guido Henkel, Helen Hanson, JA Clement, Joseph Robert Lewis, Karen Cantwell, Katy Gilbert, LJ Sellers, Lexi Revellian, Maria Savva, SM Jonas, Scott Nicholson, Simon Royle, Steven Lake, Thea Atkinson, Tom North, Valmore Daniels, Vicki Tyley, Wanda Shapiro, Tony Dwiggins, and me.
Linda wrote chick-lit, romantic comedies, and stories about horses. But even if you don't like any of that stuff, you can always gift a copy to someone who does, and get the title of your choice from the above for free (and get entered into the comp).
The editing/self-editing series will continue tomorrow, but Simon also asked us to post our reminisces of what has happened since he interviewed us, so here it goes:
The Power of Community
A lot has happened since Simon interviewed me on June 2nd, last year. I had less than a month self-publishing under my belt at that point, but it's fun to look back at that interview, and see how optimistic I was.
I think I was right to be, things have gone very well for me – better than I could have hoped, in fact – even if things took a slightly different course than I had imagined then.
Back in June, I thought I would have my debut novel out in a couple of months. In fact, I didn't release A Storm Hits Valparaiso until December 22nd. It had already been "finished" for some time, and I thought I just wanted to give it one last read-through before foisting it on the world. But the final rewrite took several months longer than planned. November and December were completely crazy. Every spare second was spent polishing the final (final) draft of this book to get it out before the end of the year.
There's nothing like a deadline to focus the mind, but in this case my deadline was completely arbitrary. I had first gotten the idea for this book back in January 2006 (then started writing it six months later), so I was desperate to publish it before the calendar ticked over to six years, and had to cut out all the simple pleasures in life we take for granted: meeting friends, leaving the house, eating, washing, sleeping.
Other things didn't quite go as planned – but in a good way. Although I'm predominantly a fiction writer, my biggest seller has been my self-publishing guide Let's Get Digital. The funny thing is, I really fell into that backwards. I remember the day I finally decided to self-publish (after lots of internal debate): April 3rd, 2011. The following day I wrote my first ever blog post, saying I would document the attempts of an unknown, unpublished writer trying to make his way in the self-publishing world. I think maybe ten people read that post, and I already knew nine of them!
Undaunted, I blogged about each step as I was doing it: editing, formatting, covers, marketing, the works. I shared my mistakes, and my failures, as well as my (minor) successes. I think at some point one of my regulars asked if I would throw all the steps together into a PDF at the end, and I thought that was a good idea. Then I thought: hey, I might as well publish it as a proper e-book. That might seem like a strange step for someone to take who had only been self-publishing for a few months – and I suppose it was strange – but at this point, the blog readership was really taking off (for reasons that are still something of a mystery).
I think all the information was already out there, but it was scattered across 100 different blogs and websites, and readers were grateful for me taking the time to parse all the good stuff, and lay it out in a series of simple steps. I think I was able to present the information that a beginner would need in the way they would understand it because I was a beginner!
Once I had gotten my head around the fact that I was releasing a real book with my name on the front (everything I had released up to then were shorts), I knew I had to do it properly. So, I consulted with my editor about the layout, and the information I would have to add to those early blog posts, which bits needed fleshing out, which had to be rewritten and so on. Sometimes I hear from writers who haven't self-published yet, and one of their concerns is that they wouldn't have their agent or editor to bounce ideas off. But my editor fulfills that role perfectly.
Anyway, I released the book in late July. Wanting to stay true to the original vision of making it free from my regular blog readers, I made the PDF a free download on my site. I also knew that the biggest criticism of the book was that I was still wet behind the ears, hadn't really sold that many books yet, so why should anyone listen to me? I made sure everybody could try before they buy, and that nobody was duped: I addressed my inexperience in the opening paragraph. Even still, I remember getting a lot of heat when it was published (mostly from the arch-defenders of the status quo).
None of that mattered, of course, and the book was a huge success, selling far more than I ever thought possible – 1,400 copies in six months. And the reception has been great: it's the top-rated book in its "genre" with over 50 five star reviews. Looking back, I see two things that were key to its success.
First, that free PDF (which many warned me not to do, saying it would cannibalize my sales) was downloaded so much on release day that it broke WordPress! I think it has been downloaded over 6,000 times now. Judging by the emails I receive, I think most people tried the free PDF first, then bought the Kindle version.
Second, I made a last minute decision to include a bunch of success stories at the back of the book. At the time, all anyone (outside of self-publishing) was talking about was Hocking, Konrath, and Locke, but I knew that "success" ran far deeper and wider than that. I got in touch with a whole load of self-publishers who had achieved some level of success in a variety of different genres. Honestly, I expected maybe 5 to agree to contribute. I had a little panic when I got 33 to agree, then realized that could work quite well. And it did, and for many people, that's their favorite part of the book: hearing how all these guys started from nothing and built themselves an audience of thousands (and in some cases hundreds of thousands) of readers.
It still amazes me that all these guys took the time to write 800 words for my book – with only the vague promise of some kind of undefined exposure in return. And it's not like these guys needed it – they were already dominating the charts. One example: I think Bob Mayer was selling 2,000 books a day when I contacted him. I'm sure he was being plagued with requests for media interviews, guest blogs, and so on. Even so, I think he was the first to respond a couple of hours later. And not only did he agree, he attached his contribution, already written!
But all my contributors were great, with many of them helping to promote the book on launch (and still doing so). That really helped the book take off.
That whole experience showed me the power of our little community, and the amazing generosity of spirit that exists among self-publishers. Everybody helps each other. The guys at the top help the little guys just starting out. And it happens every day. I don't know of another profession where such esprit de corps exists.
I didn't know Linda very well – our paths had never crossed – although I remember seeing her book We Interrupt This Date and thinking: that's a very smart title. Even so, when I heard of her tragic passing, I was saddened. We had lost a member of our community. I was heartened to hear that Simon was planning a tribute, and wanted to help whatever way I could. Because that's what community is about.