It's official, Amazon is closing CreateSpace "in a few weeks" and seems to be nudging people to move to KDP Print now. More on that below, including how the process has been simplified further – significantly in fact, especially for those with large catalogs who can now move the whole lot at once.
First, a few quick bits of (mostly related) news…
Strangers to Superfans Paperback Is Out
Strangers to Superfans is finally available in paperback. If you have read any of my author books, I think this is the best one by far. It's the only title that I know of which comprehensively looks at marketing from the perspective of the most important person in publishing: the reader.
It introduces a new marketing paradigm called The Reader Journey and I think it will change how you think about marketing. It's far from conceptually focused though – packed full of actionable steps you can immediately take, as well as a detailed case study with some astonishing results.
It's also the first title I've published fresh via KDP Print, and the process was super easy. I think most people (bar Australians, perhaps) will be happy with this change once it's behind us and everything is transferred. It's certainly very handy getting all your sales reports in one place – and they even get pulled by BookReport.
Like all of my print titles, Superfans is enrolled in the Matchbook program, meaning purchasers of the paperback in the US will get the ebook for free. So if you have been holding off for any reason, now is the perfect time to get a twofer.
Extending Matchbook & Pushing Print
It's a pity that Matchbook isn't available in all territories, I'd love to make it available to readers everywhere. In fact, I wish Amazon would go much further with it and merge it with Whispersync too. I'd like to see those purchasing the ebook get offered print and/or audio at a discount, and every combination thereof – and I'd be fine with some of that discount coming out of my end.
Ebook sales spikes nicely spillover into audio because of Whispersync, and I'd love to see them driving print sales too. Hopefully that kind of thing will get easier now everything will be under one roof.
While I'm wishing for ponies, I'd love to see Amazon get creative about pushing print sales, perhaps things like recommending people buy paperback versions of their favorite ebooks, or gift them to friends, especially around the holidays. Those are pretty basic ideas though. Do you guys have any better suggestions how Amazon could push KDP Print books? The very bottom of this article might get some brains whirring…
Let's Get Digital On Sale
The 2018 edition of Let's Get Digital is on sale and you can grab it for the reduced price of $2.99, saving you a couple of bucks. This wasn't a sale I had planned – Amazon is price-matching Kobo's launch sale at Walmart – but I thought I'd let you know in case you were considering a purchase. Be warned though, I'm hoping to release another book for authors towards the end of September and might well run a 99¢ sale on Digital then. But if you can't or won't wait for that, get yer retailer links here.
Newsletter Ninja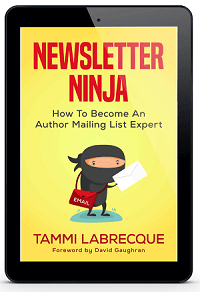 The lucky ducks on my weekly marketing newsletter already heard me rhapsodizing about Newsletter Ninja last Friday, at length, so I'll keep it brief here: if you want to get better at email, arrest falling open and click rates, generate true engagement with your readers, turn more purchasers into raving fans, build a community with your readers, and create a truly sustainable future for yourself as an author by having thousands of people pouncing on each new release announcement, then buy Newsletter Ninja.
I also wrote the forward to this book, where you can read the huge effect applying these methods had to my own career.
Disclosure: Tammi edited Digital 3 and Superfans, but I asked Tammi to edit those books because she knows her sh*t inside out and is a literal ninja.
CreateSpace Is Dead, Long Love KDP Print
CreateSpace is closing, it's official. As I said up top, and in my post two weeks ago, it's probably wise to get ahead of the big migration in a few weeks. Amazon has 2m titles to move; stuff is bound to go wrong. And my own experience with KDP Print customer service indicates that you might not want to get stuck in that queue with everyone else.
To encourage you to move now, Amazon has further streamlined the process and you can now port your entire catalog in one go right here. There's also a pop-up which will initiate the process for you when you log into CreateSpace, but reports this morning suggest both are getting slammed right now. Don't panic if you can't get in today – you have a few weeks.
I recommend checking all your titles afterwards – the covers, blurbs, metadata, interior files – so that wasn't wasted work if you jumped early. Stuff can go wrong in the transfer process, as I found myself. It's important to double check everything (especially given reports of wonkiness in the new migration process this morning).
Pay particular attention to blurbs and metadata — those get pulled from your ebook edition and might need updating. On the plus side, you know have more categories and keywords for your paperbacks.
I'm sure you have lots of questions about the closing of CreateSpace. Amazon has posted a fair bit of information on the KDP help pages and the related FAQ which you can read. I'll just highlight some things:
No official date has been announced but Amazon said the automatic transfer process from CreateSpace is happening "in a few weeks." If you choose to do nothing, your titles will be automatically ported across at that point.
All historical sales data will disappear from CreateSpace at that point. Amazon's FAQ claims it will be incorporated into your KDP Dashboard, but I transferred a few weeks ago and haven't seen this. Perhaps it's coming, but backup your data just in case.
You don't need to do anything with ISBNs. If you were using a free CreateSpace one, that doesn't need to change (and CreateSpace will continue to be listed as your publisher).
Books will stay live during the transfer process.
Yes, KDP Print now has matte covers, expanded distribution, author copies, and distribution to Canada, Mexico, and Australia, and pretty much everything else you got at CreateSpace. Except for…
No, the Australian issues regarding author copies etc. have not been resolved. I think Aussie authors need to put their heads together and collectively tackle Amazon on this.
Payment schedules are NOT the same. In short, KDP is a month slower in paying so you'll have a gap month. Stock up on ramen.
Royalties are pretty much the same (some minor printing cost differences regarding shorter books printed in Europe), and you can price individually in most territories.
These are the key differences between CreateSpace and KDP Print as per Amazon.
Most interesting nugget there: you can run AMS ads for print books. Interesting, especially given that you can target print books exclusively with Product Display ads.
That's it! I'm off on vacation tomorrow for a week. I'll probably offline the whole time while I finish a book for September release. More on that soon…
UPDATE: Amazon seems to have been caught on the hop – there are widespread reports that people are having difficulty transferring their books, to the extent that CreateSpace is apparently now restricting access to the migration tool in batches. If you haven't received the email yet, you probably shouldn't even bother trying. If you have received the email and still can't transfer (many are in this boat, judging by reports), then perhaps wait a couple of days for traffic to die down. And for those opting to wait until the mass migration of all remaining titles, perhaps this is an indication of what chaos awaits in a few weeks. I'd take this as further evidence that you should move before you are pushed… once you can. Sorry I didn't update this post sooner, I'm on vacation and approaching sloth-levels of sleep patterns.