Okay, this might be my favorite ever blog post. Remember that guy who wrote that book set in Haiti, the one I was raving about, the one where he was giving all the profits to charity? Well, I have him back with some big news.
Here's Ted Oswald:
I'm a first-time author. I'm a self-taught writer. I crafted the best book I could, tried to follow the best self-publishing advice I could find. And last week, I concluded a book deal with Thomas & Mercer, Amazon Publishing's mystery and thriller imprint.
How? I suspect divine intervention. I of course don't have a five-point road map to offer to getting a deal, but I can at least share some of my stops along the way. I hope they're encouraging for those who aspire to a deal, or hope to carve out a hybrid career straddling the realms of traditional and independent publishing.
Some of you have seen David's prior posts about my book and its background: Because We Are: A Novel of Haiti is a murder mystery set in the slums of Port-au-Prince with two remarkable children in the lead. It also happens to be a "nonprofit novel," so that all net proceeds are donated to advocacy and development organizations in Haiti.
I crowdfunded the book on Indiegogo, and did a few KDP Select giveaways to modest results. David found Because We Are during one of those promotions, and he's proved a huge help both directly (through giving advice about putting together a "Big Push") and indirectly (through my poring over Let's Get Visible).
I set everything in motion for the Big Push, a promotion that would try to jump start sales across retailers. I let the book slide out of KDP Select and distributed it to B&N, Kobo, and Apple via Draft2Digital; I pushed the price up to $3.99, readying 99c promotions through BookBub, Book Blast, and Ereader News Today; I prepped tweets and posts via Hootsuite during the promotion period; David featured the book on his blog. Everything was set.
The result? Drumroll… seemingly not too much! It had a day or so high on the various retailers and gained some traction in Amazon's literary fiction and international crime and mystery charts over the following week. It didn't sustain sales on the other retail channels and I ultimately broke even on the expenses for the various listings. By now, it's back to selling slowly.
But here's where that providence kicked in: a few days after the promotion, an acquisitions editor from Thomas & Mercer contacted me. She let me know several things. She: (a) had seen the book in the international crime and mystery chart when it was riding high; (b) liked the cover; (c) liked the blurb; (d) enjoyed the sample; and (e) proceeded to read the full book. Two days later, she finished it and immediately reached out. Two months later, the deal is signed and Because We Are should be republished next year.
I'm excited to partner with Amazon. I'm convinced they can help me improve my book further and help it reach a wider audience. I hope the relationship leads to a future writing career for me.
But I have to be honest: right now, I'm most excited that I'll be able to donate thousands of dollars more to organizations impacting lives in Haiti, hopefully for years to come. The prospect of thousands more readers around the world encountering Because We Are, reading it, and being impacted by it comes in at a close second.
If there's any encouragement from my story, I hope it's this: I haven't sold thousands of copies. My book has a website but I don't blog. My followers are few. My platform is about an inch high. But I was confident I had a compelling book on my hands. I promoted it as best I could following sound advice. And doors opened. Thanks so much to David and everyone here that either purchased the book or helped spread the word—this exciting news wouldn't have been possible without your help!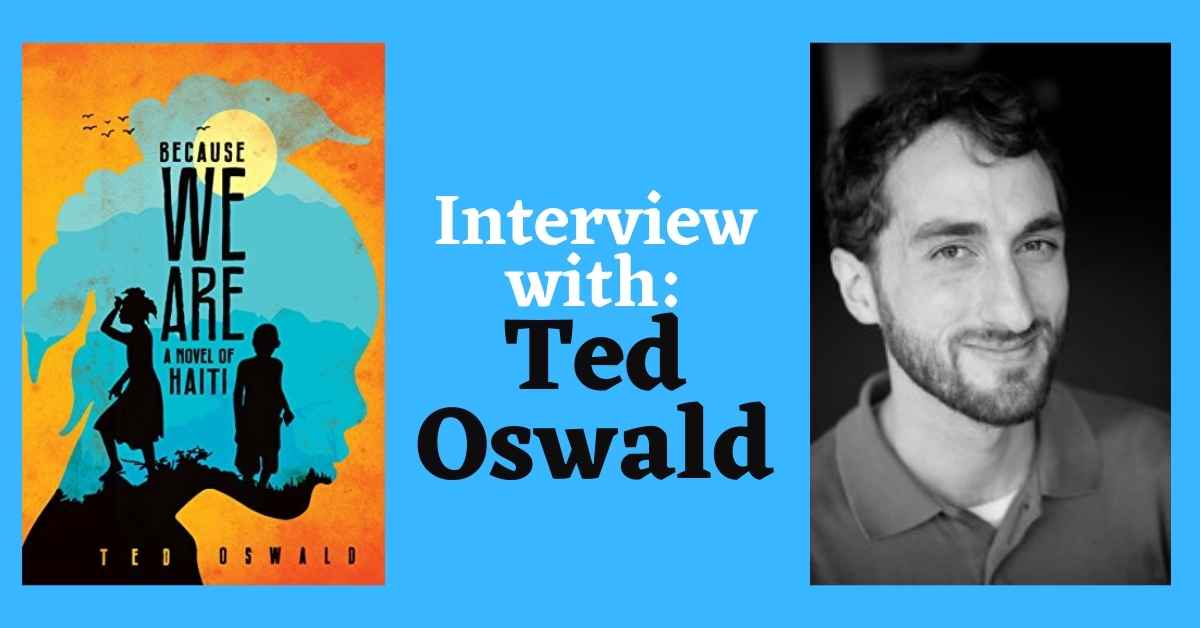 Final Note From Dave:
A huge congratulations to Ted! I was bouncing off the walls when I first heard the news, then had to keep quiet until today's announcement, which was… difficult.
If you haven't read Because We Are, I strongly recommend picking it up from Amazon.
There are so many things I love about this story, but knowing that a whole bunch of grassroots NGOs in Haiti will benefit hugely from Ted's success is my favorite part. It couldn't happen to a nicer guy, and Ted deserves all this for a more fundamental reason: he wrote one hell of a book.