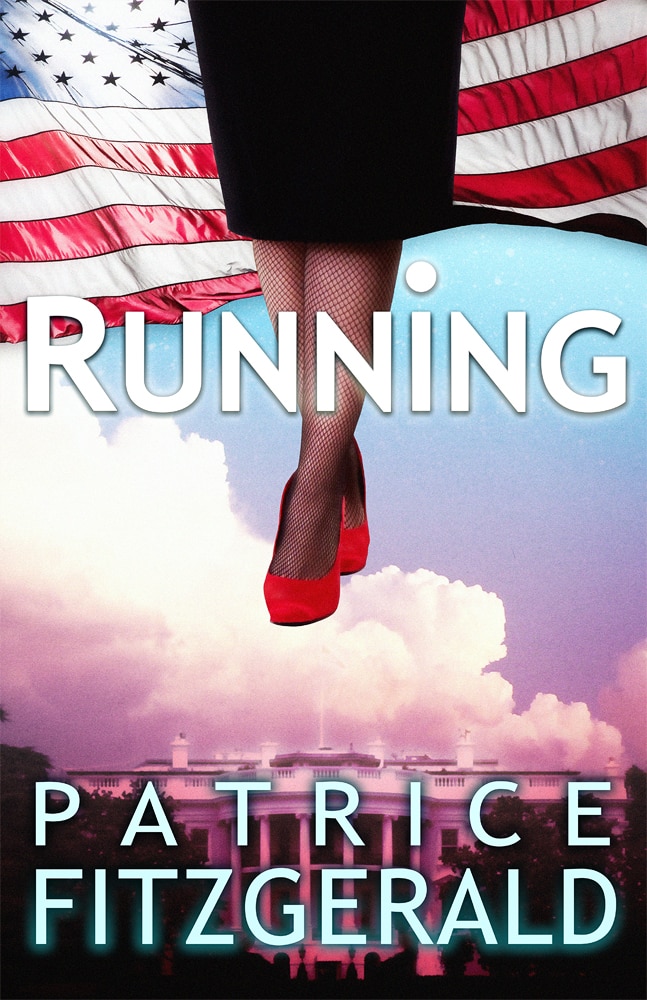 Last week, I had a guest post from Marilyn Peake, who explained how KDP Select is helping her achieve new levels of success after ten years in publishing.
I wanted to have a couple of opposing voices here to balance out my opposition to the program because (a) my antipathy towards KDP Select is based – at least partly – on the exclusivity requirement, which matters less to other writers, and (b) I could be wrong anyway.
Today, I have a guest post from Patrice Fitzgerald who has used KDP Select to hugely increase her sales – at prices far higher than the average self-publisher too.
Here's Patrice:
***
Dave asked me to share my wildly successful experience with the KDP Select program and my judicious use of "free" days – five such days being allowed during the 90-day period of exclusivity required when signing up for KDP Select. I have to confess that I have suddenly become very popular amongst fellow writers who are dying to know the secret of my high sales numbers, and the lunch and dinner invitations are pouring in along with requests to pick my brain.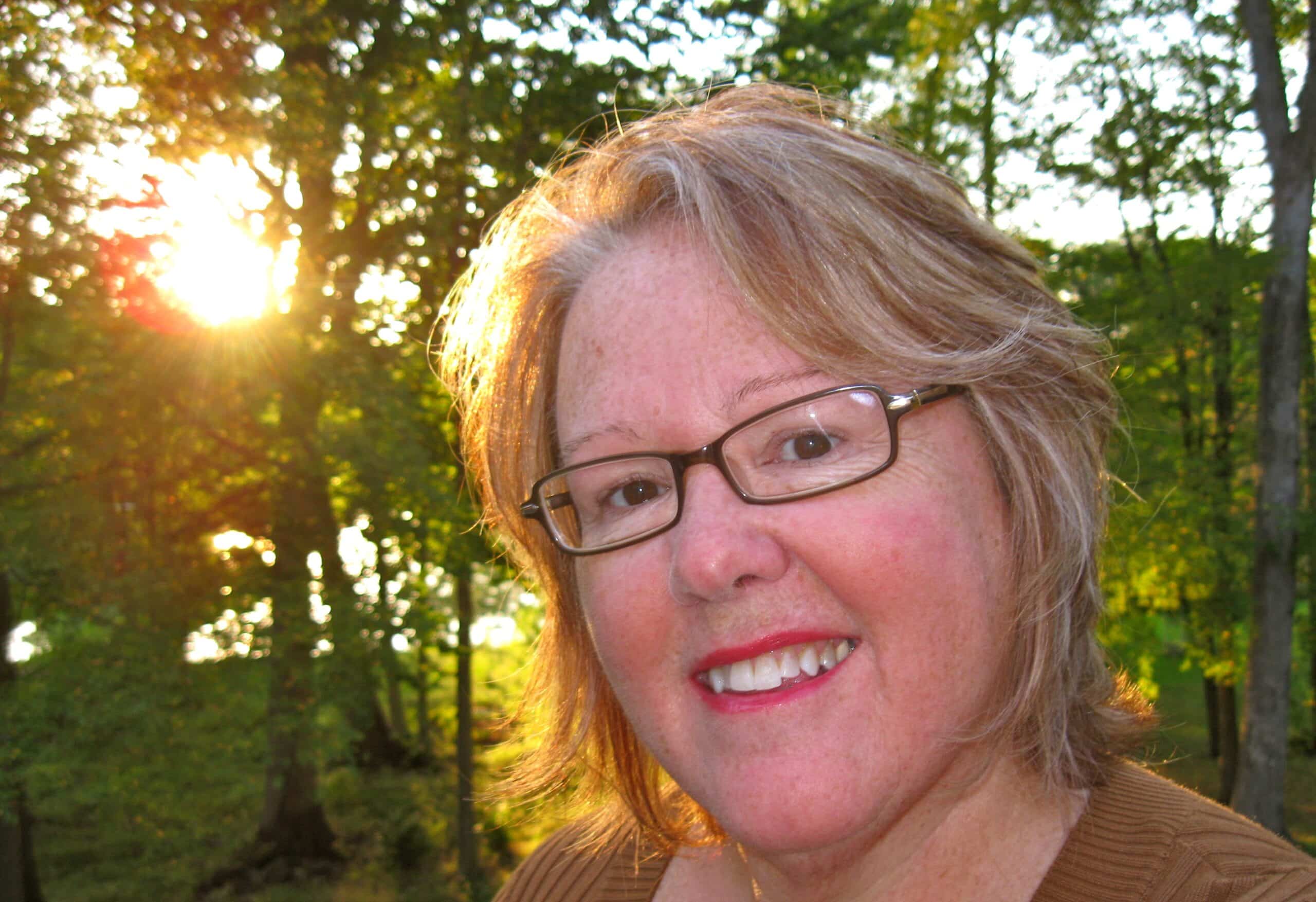 And why are they asking me? I made my political thriller, RUNNING, free on December 23rd, and since then this single title has seen 12,000+ free downloads, 1,600+ sales (many at $7.99), and 750+ borrows.
So what is the secret? Sssshhh… this is just between you and me. You have to promise not to tell, except to very good friends. Here goes!
Write a good book.
Okay… now we can eat that delicious dinner you promised. Oh, wait… you want more? All right. Here's a more detailed list.
Write a good book.
Have a real editor edit it.
Get a professional cover.
Make sure the formatting is pristine.
Yum. Okay, I'm game for dessert too. No? You say you've already heard that dull advice on other writing blogs… you want to know about this free day thing. You want to know how you can get your book noticed, and make the big bucks! Oh, all right.
Herewith the short version of my overnight success. I started writing novels in 1992. My first move, after drafting a mere three chapters of a legal thriller, was to send an overnight letter to John Grisham's agent. I was a lawyer, after all. I figured I could write one of those books and then just sit back and rake in the money. As luck would have it, there was a brand new editor-turned-agent who had joined the firm (get it? – The Firm!) recently, and she read my letter and called me to talk about possible representation. Being a baby writer, I thought this was normal — an apt testament to my innate brilliance. That same week, a friend-of-a-friend heard about my novel and contacted me about buying it for television. Easy, peasy, right? Literary stardom, effortlessly falling into my lap.
Fast forward twenty years, many drafts of that freshman book later. Whiz through a couple decades of near-agents and close-to-sales, another thriller, a middle grade fantasy, one-and-a-half screenplays, lots of short stories, attendance at critique groups, workshops, writing conferences, freelancing in print magazines and online, and writing assorted op-ed pieces for tiny sums, and… I was not any closer to being a published novelist. I still thought my second book, about a woman running for President of the U.S., had great potential if I could only sell it.
I gave up writing novels for several years after the rejection slips grew into a small mountain that threatened to bury my laptop. This was back in the good old days when you had to query by snail mail, send an SASE (self-addressed stamped envelope, remember?) and then wait forever. Friends asked me if I would self-publish, and I gave them the standard line that such things branded you as both desperate and untalented, and would not only keep you out of bookstores but ruin your chances of ever landing an agent and having a "real" career.
And then the summer of 2011 came along, and I read about Amanda "$2 Million Publishing Contract" Hocking, John "First Indie to Sell A Million" Locke, and Joe "Indie Guru & 30 Days of Beer" Konrath. Also, I read a very useful book called Let's Get Digital, written by an enterprising chap with a scurrilous-looking moustache.
I know what you're thinking by now… enough with the Patrice "Best-Selling Baby Author" Fitzgerald story. What about those free days?
Okay. Here's what I did. It worked for me. Try it at your own risk.
I published my political thriller on the 4th of July, 2011. That month I sold 36 copies. August, 2011 – December 23, 2011, I sold a total of 25, and the trend was downward. Then things changed.
The KDP Select program was introduced last December. I knew that Christmas 2010 had seen an enormous surge in sales of ebooks because so many new e-readers had been bought. A similar avalanche of purchases was anticipated for the days after Christmas 2011.
I signed up for KDP Select. I had little to lose; I had sold precisely zero books in the couple of months RUNNING had been for sale on Barnes & Noble. I decided to try one free day, figuring that I would get my sales going before December 25th. I chose December 23rd, and RUNNING became free at about 3:00 a.m. my time (I'm on the East Coast of the U.S.) early that morning. I'm not quite sure what happened then, but by the time I glanced at the numbers, nearly 4,000 copies had been downloaded. Apparently I hit the Amazon Movers & Shakers List, which I never knew existed until a week later.
I was surprised at the sudden downloads, and pretty happy, but I still didn't recognize what this meant. Soon I would be a bit loony, checking numbers obsessively, thinking about a vacation in Bora Bora, and wondering how I could keep selling this many books forever…
Here are the raw numbers for downloads and sales of RUNNING in the US Kindle store. I have noted the sales for each individual day. Some of this is approximate, since there were a few returns, and I didn't subtract them until later. I kept pretty good records, something you'll want to do if (when!) your book goes on a run like this. I also changed the price several times along the way, as you will see:
KDP Select Sales of Patrice Fitzgerald's RUNNING
12/23 – FREE – approximately 8,500 downloads (at some point that day I got to #18 in the Top 100 Free list on Amazon)
12/24 – $4.99 – 89 sales
12/25 – 221 sales
12/26 – 176 sales by 10:30 a.m.
RAISED price to $7.99
12/26 – $7.99 – 239 sales after price changed
12/27 – 131 sales by 6:10 a.m. (see how crazy and sleep-deprived I'm getting?)
LOWERED price to $2.99 (don't ask me why – I must have been reading Konrath's blog and thought I could up my sales)
P.S. At this point RUNNING was #288 in the Paid Top 100 list (best position I achieved on the big Paid list was something like #217… I never quite got higher than #200, but the low 200's was pretty exciting!)  I was #2 in the Kindle store for political fiction, #3 for all Books in political fiction, and #50 in Thrillers. I took a bunch of fun screen shots where I was neck and neck with Atlas Shrugged, Animal Farm, War and Peace, etc…. mostly while free.
12/27 – $2.99 – 305 sales after price changed
RAISED price back to $7.99 (certifiably nuts by now, trying to maximize profits)
12/28 – $7.99 – 114 sales after price changed
FREE again on 12/29 – I was trying to goose sales again, getting greedy – don't do this, it gets you way up on the Free List but loses you position on the Paid charts
12/29 – FREE – 3,391 downloaded
BACK to $7.99, vowing not to mess around with price any more (husband now going crazy as well)
12/30 – $7.99 – 63 sold
(Note that I lost chart position, which is critical to sales – more folks see you the higher up you are, and success breeds success – I came back onto the charts after the second Free day at #1353 Paid in the Kindle store, #7 Kindle Political Fiction, #10 Books Political Fiction.)
12/31 – 78 sold
Grand total for the period from 12/23/11 (first free day) through 12/31/11:
11,891 Free Downloads
1,416 Sold (@ various prices ranging from $2.99 – $7.99)
508 Borrowed
These numbers are not precise; the price changes occurred at 3:00 a.m. my time, so I often wasn't awake to get exact counts when it went on and off sale on the free dates.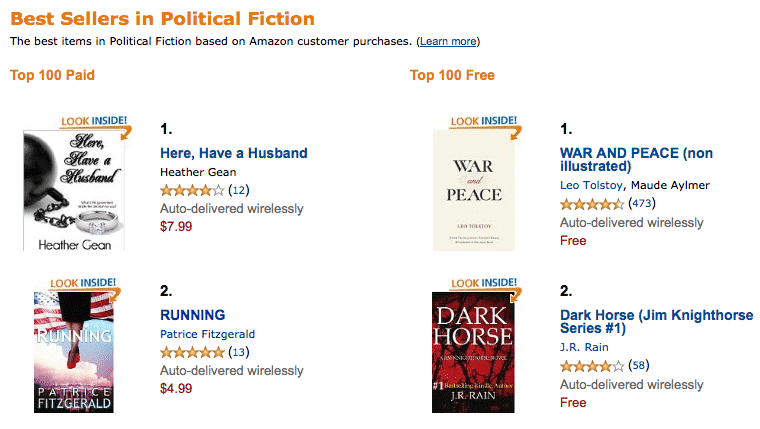 At one point I was #1 Free in Political Fiction and then #2 Paid in Political Fiction, and as high as #18 Free in the Top 100 Books overall.
I also took a couple of fun screen shots where I was just behind Atlas Shrugged, just below The Girl with the Dragon Tattoo, and finally squeezed into the Free List between a Joe Konrath (The List, naturally) and something called Incredible Sex!
Show me the money, you say?  I made $5,166 in the last week of December. I hear that the talented Mr. Konrath made $50,000. I have neither his fame nor do I share his background as a traditionally published author. But I made 10% of his profit in seven days (outside of the two free days) on one novel. At a significantly higher price.
I am calling RUNNING a best seller. That seems like a reasonable claim to me.
Now, you can imagine my state of mind after all this. I'm an overnight success! I'm thrilled! I'm scared! I'm excited!
I've waited so long for this. It is very cool to be in this position at last. There is tremendous joy in knowing folks are reading my novel and writing five-star reviews (and the occasional one-star – usually from those who downloaded it for free) along with a powerful desire to keep the sales numbers high. And after the holidays, the sales have naturally slowed down.
At $7.99, RUNNING has sold these numbers since the first of the year:
1/1 – 88
1/2 – 54
1/3 – 22
1/4 – 23
1/5 – 15
1/6 – 5
1/7 – 6
1/8 – 9
1/9 – 9
1/10 – ?
A total of 231 books have been sold @ $7.99 in January, 2012 as of the point I am sending this off, with an additional 243 borrowed. I'll be interested to see if my 500+ borrows in December will bring in any significant income. There is a pool of $500,000 available, but there are many, many books in the program, and the money will apparently be divided amongst all the sellers of borrowed books, per their percentage of the total number borrowed.
And so, what is my advice to you, dear writer?
Write a good book.
Prepare for luck by looking like a pro. I suggest a high price, so that you don't telegraph that you are an indie. Position yourself like a traditionally published author in every way you can. Just in case an agent comes knocking, you won't have to convince publishers that your fans will buy a book that costs ten times more than your $0.99 price.
When luck comes along, jump on and ride that sucker as hard as you can!
It can't be Christmas every week. If it could, my husband would be making plans to retire ASAP. But what can I do from this position? Keep writing good books. Pay others to help edit, format, and publicize my books. Hire the wonderful artist who created the cover of RUNNING, Christopher Steininger, to do another one for me. Publish books to benefit my community and give all the profits away. Encourage other writers to be brave.
So how does it feel to be a best-selling author?
It feels awesome. AWE. SOME.
May you have that feeling soon.
***
A huge thanks for Patrice for sharing that story. I should note that since she sent me this guest post, Amazon have announced the figures for KDP Select. For last month at least, they are paying $1.70 per borrow (meaning Patrice has an extra $863 coming her way for December – taking her over $6,000 for the month – and, in addition to that, substantial borrows already this month).
A total of 295,000 KDP Select books were borrowed in December, leading Amazon to increase the pot for January to $700,000 (from $500,000).
Have these numbers (and these authors' experiences) led me to change my mind on participating? In short, no, but I'll explain those reasons in more detail later this week.
As for Patrice, KDP Select has shone a huge spotlight on her work. Because of that, she is going to get even more exposure now – a local TV station have been in touch, and she will be on NPR on Wednesday (and you can listen live online, I'm sure Patrice will come along later to post the link).
In addition, Patrice is having a sale this week to celebrate: you can pick up RUNNING for the reduced price of $2.99 instead of the usual $7.99.
If you have any questions for Patrice, I'm sure she will be along later in the comments, so fire away!