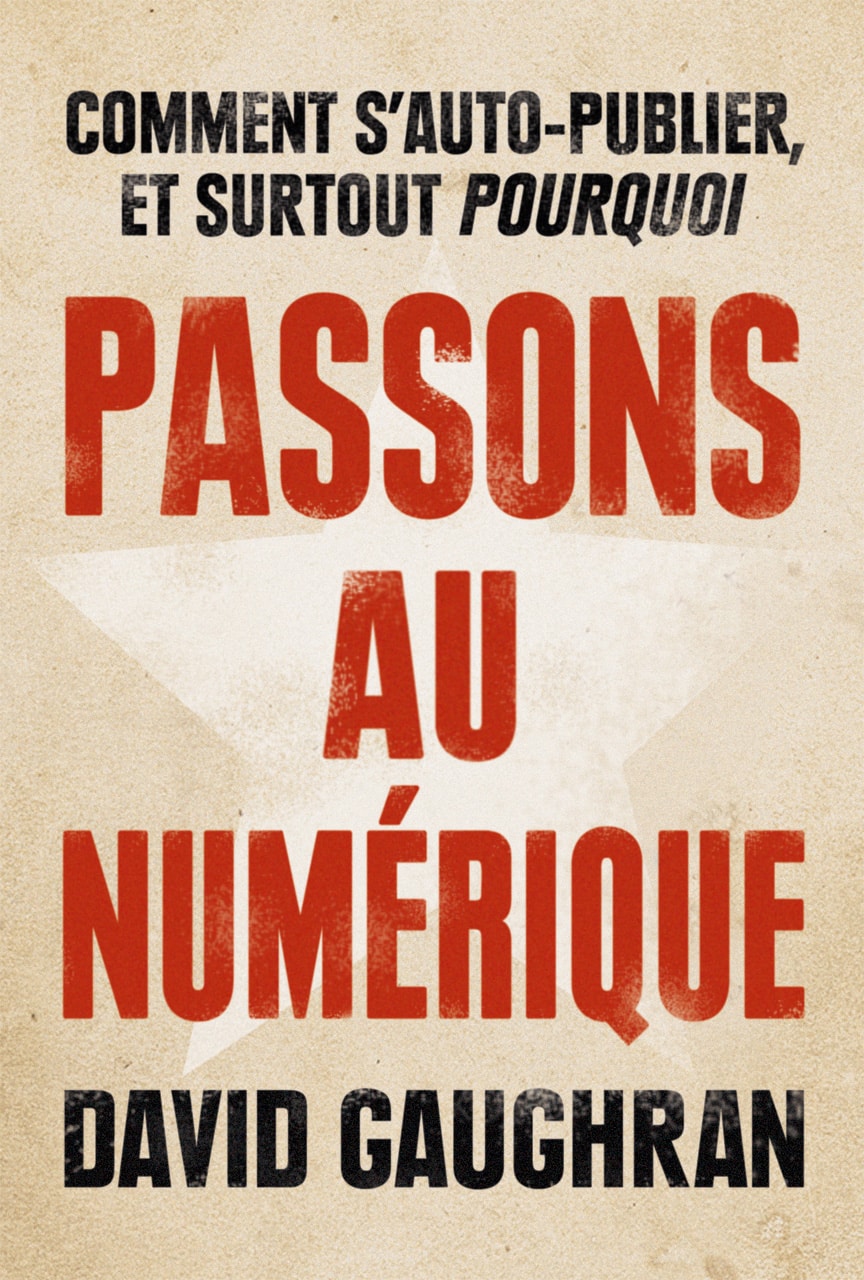 First of all, an apology. After my move to London last month, it took longer than expected to get settled. I'm finally back online, working off a dodgy mobile connection – but at least it's something.
While I've been wrestling with estate agents, recruitment agents, and insurance agents over last six weeks (what is it with agents?), a lot has been going on. I've been selling quite a few paperbacks – both online and offline (direct to indie bookstores) – editing my next novel for release in July, working on a dystopian novella, and sketching out notes for the rest of the books I want to release this year.
I'll cover all those topics over the next couple of weeks, as well as details of a talk I'll be giving in a bookstore in London (and signing some books), but today's news is the release of the first title from my profit-sharing translation program.
Passons au numérique !
Passons au numérique : Comment s'auto-publier, et surtout pourquoi is, as you may have guessed, the French edition of Let's Get Digital and has been translated by the enterprising and talented Lise Capitan (a writer herself, as well as an excellent translator) and proofed by the eagle-eyed Sabine Sur.
The text has been updated somewhat to reflect changes in VAT, the opening of various new Kindle Stores, the collapse of Borders, and I've also had the opportunity to include contributions from two French writers – self-published crime writer Pauline Doudelet and Jeff Balek, who publishes a lot of work through a small digital-focused French publisher, but who is also doing a lot of interesting things independently with games and music based on the worlds he creates.
The rest of the content is the same as the English version, which has now sold almost 2,500 copies, and garnered over 100 reviews on Amazon – almost all five stars. Those reviews have propelled it to top three Top-Rated status in five different categories, and it has even cracked the Top 100 Top-Rated in all Non-Fiction e-books on Amazon.
I haven't spoken French since I was sporting a top hat and tails, flinging cocktails in an Alpine ski resort, but I've been told that Lise Capitan has done a tremendous job with the translation. I would like to thank her and Sabine Sur for helping to make this French edition a reality.
Readers in France, Belgium and Monaco can pick up a copy here, the Swiss should go here, residents of the sixth largest French city (London) can grab it here, and French Canadians and anyone outside the above countries can get it from Amazon US here. You can also buy a copy direct from me, where you can find non-Kindle versions if you don't want to wait for the book to filter out to the various other retailers.
This is the first of many titles in several different languages that I will be releasing under a profit-sharing model.
The Profit-Sharing Model
I'm sure many of you have questions with regard to translations: what they costs, how it all works, and whether they are worth the trouble. Scott Nicholson outlined the basics of the profit-sharing model in a guest-post here last September (and you should read that first). My process has evolved a little since then, so a refresher might be in order.
Translation is only something that should be attempted by a qualified, experienced, professional translator. Capturing the idiom and nuance of each individual writer in another language is a highly skilled, labor-intensive process. As such, translation isn't cheap and can cost several thousand dollars.
For authors like Scott Nicholson – who has an extensive back-list – the cost of translating into multiple languages would involve a staggering capital outlay. Faced with this conundrum, Scott began offering translators a 20% cut of his royalties – on the basis that they forego their up-front translation fee.
As the profit-sharing model was Scott's idea, I asked him for an update. Scott's program is a lot more advanced (he has been doing this for quite a bit longer, and his significantly higher sales make it easier for him to attract translators). Here's Scott:
* * *
I have been slowly but steadily building a foreign catalog by working with independent freelance translators. I have about a dozen titles out now, finding translators through serendipity, luck, and occasionally by translators finding me through my website. Many times, a translator only has time for one book, but I have been working with Stefan Mommertz in Germany on multiple titles and we are building a nice catalog and have done fairly well. The German market is pretty healthy but still early in ebook adoption. From my experience selling and giving away books, the Italian market is showing signs of growth but probably is about where the U.S. was in 2008 or so. I haven't seen much action in the Spanish market, and the French market is likewise barely visible.
It's interesting that I get Italian sales in all the Amazon markets, and also not surprising that even with the proliferation of the iPad worldwide, most of my foreign sales come via the Kindle. I look at foreign editions as yet more revenue trickles, more marketplace diversity, and millions more potential readers. Obviously, the challenge of marketing foreign books can be daunting because of the language barrier, and here again Amazon is really the only digital market that gives you some tools to compete and help your book get discovered.
I pay a 20 percent royalty to translators and get the proofreading done through various means, often in trade for promotion. I treat my translators as partners, because they are part of the studio and they are taking a risk with their time and talent. I am honest with them that it may take years for the books to generate real revenue, but the quarterly royalty payments can make a difference in the meantime, especially when they get paid for work already done. Over the long haul, you may think I got a "bad deal" because I end up paying more in royalties than I would have with a flat fee for translation, but I believe we both come out ahead–and far better than we would working with a traditional publisher in any language. It is very satisfying to see fellow creative entrepreneurs rewarded for their craft.
I am most optimistic about the Brazilian market and Portuguese ebooks as the next Amazon frontier, as well as Kobo's aggressive improvements. Tradition in many ways has Europe in a digital slumber, and the fixed-price laws will also slow the growth of digital in some countries. I have a profit-sharing deal with a Chinese publisher (not quite what I would call a trad deal), but I have no knowledge yet of the market potential there. The way I look at is I still have six billion potential readers out there. And I can reach them from my desktop with the click of a few buttons. The same advantages of self-publishing in English apply anywhere in the world.
* * *
Thanks to Scott for that update. You can see his extensive back-catalogue here, and keep up to date with all his experiments on his blog here. I should also mention that he has two books riding high in the charts at the moment. Liquid Fear is at #20 in the overall Kindle Store, and the follow-up, Chronic Fear is at #30 – so well done Scott!
Returning to the model, simply put, it allows authors to circumvent much of the up-front costs in exchange for sharing some of the profits.
There is an element of risk for translators, of course. If the book is a flop, they would be out by a significant amount. However, if the book does very well, the translator could earn much more than their standard fee – there is no cap on what the translator could earn, either in terms of duration or a maximum dollar amount.
As I don't sell as many books as Scott, I felt I had to tweak the model, sweeten the pot a touch, and provide a little extra security to my translators. The way it works is this: I aim for two translators in each language, and split my titles between the pair. Each translator proofs the work of the other. The proofing is up-front fee work, paid in the normal way. This way, each translator should have a nice mix of profit-sharing work and up-front fee work.
To be clear: neither I nor Scott are proposing that all translation work could or should be done on this basis. I'm fully aware that this model will only appeal to a limited number of translators. I appreciate that some (indeed, most) translators will consider the level of risk unacceptable. For writers also, there are pros and cons to this model (see the comments of this post for a fuller discussion).
But for those who are interested, I'm seeking translators in all languages – particularly German, Spanish, (Brazilian) Portuguese, and Italian. If you want more details, please email me at david dot gaughran at gmail dot com.
For anyone considering taking on such a project (either as author or translator), I recommend having a simple, clear contract, spelling out the exact terms. As the results are uncertain for both parties, I think it's important to establish up-front whether you could have a good working relationship with the other side. I think authors in particular should be careful not to make promises with regards to sales, and must be open with their numbers (and realistic with projections).
Translators need to be certain that the project would be interesting to work on, and that they can trust the person they are working with. As a first step, authors should furnish a copy of the English version and then both sides can take it from there.
I will have some short stories out in French and Polish over the summer, to be followed by longer work in Spanish and Italian.