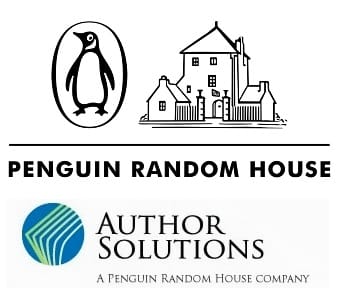 It should be clear to everyone now that Penguin Random House has no intention of cleaning up Author Solutions.
The only development since Penguin purchased the company for $116m back in July 2012 is that Author Solutions has aggressively expanded operations (see here, here, here, here and here).
I've been covering the Author Solutions story for a while now – particularly since the Penguin purchase, which was met with disbelief in the author community.  It's a frustrating beat, especially when faced with a wall of silence from the many companies and organizations in traditional publishing who have links to Author Solutions and its subsidiaries.
Documenting the links between Author Solutions and the rest of the publishing world is depressing work. The list reads like a Who's Who of traditional publishing. Getting them to discuss their links to Author Solutions has been near-impossible, let alone taking any action with regard to those links.
One exception has been The Bookseller.
I criticized The Bookseller when I learned it was carrying advertising from Author Solutions. Those ads were being re-sold by Author Solutions to its customers at insane mark-ups (prices up to $10,500). Price-gouging aside, I felt that Author Solutions being able to offer such advertising to its customers bestowed legitimacy on its scammy operations.
That post led to a dialogue with Philip Jones, the editor of The Bookseller. Last week, he told me that The Bookseller is no longer accepting such ads. Here's the money quote, reproduced with permission:
The Bookseller is no longer taking advertising from Author Solutions or its subsidiary companies. We've previously asked them to update the information they display about us on their websites, and have now asked them to remove it entirely.
This is wonderful news and Philip Jones and The Bookseller should be applauded for taking this step.
I should also note that they didn't have to do this. The Bookseller is under no legal obligation to stop taking ads from Author Solutions. The Bookseller was selling ad spaces to Author Solutions at standard rates, and it isn't legally responsible for what third-parties charge when they re-sell that advertising.
The Bookseller took this decision because it felt it was the right thing to do.
This is a hugely positive step for three reasons. First, Author Solutions and its subsidiaries have one less way to gouge their customers. Second, another veneer of legitimacy has been stripped away from this awful vanity press. Third, we can use this to pressure other organisations with links to Author Solutions.
And there are lots of those.
Advertising packages with The Bookseller were just one of many such packages that Author Solutions re-sold to its customers at eye-watering prices. You can still buy packages to advertise with the London Review of Books, Guardian Weekly, Library Journal, Kirkus, Publishers Weekly, New York Review of Books, Readers' Digest, ForeWord, Clarion, Ingram, and the New York Times.
As an example, this advertising package with Publishers Weekly costs $16,499. And this single page ad with Readers' Digest costs an eye-watering $72,499. That's not a typo.
We need to start pressuring these organisations to do the right thing and stop accepting advertising from Author Solutions. Thanks to The Bookseller we now have an example of a company which made the right move.
Of course, it's not just media organisations lending legitimacy to Author Solutions. As I covered in three successive posts last year, literary festivals and conferences are being used as a fig leaf for shady practices.
I reported in July how Author Solutions made $297,000 from selling book-signing packages at the Word on the Street Festival in Toronto. I followed that up with the disturbing news that the organizers of the event didn't care.
The following month, I highlighted a similar scam taking place at Miami Book Fair International – one which Author Solutions made over half a million dollars from at their 2012 event. Delia Lopez, the Director of Operation of the Miami Book Fair didn't care either, telling me by email: "The Fair as an organization does not take positions on these issues."
This week I discovered another prestigious literary festival which has been welcoming Author Solutions for several years. From figures in their own press release regarding the 2013 LA Times Festival of Books, Author Solutions hosted 80 book signings and showcased 1,100 titles.
By their own price list – where they charge $3,999 for the former and $599 for the latter – this netted Author Solutions $658,900 for "showcasing" those books and a further $319,920 for the book signings. That's a total of almost one million dollars. From one event!
It's great to get a victory against Author Solutions, but it's time to increase the pressure on the companies and organisations which still have links with the company. I've been asked by readers to compile a list of such links, and I've copied that below. Please note that this isn't an exhaustive list, it's what I've been pull together so far, relying heavily on the work of Victoria Strauss at Writer Beware (who has been covering this story for much longer than I have) and Emily Seuss (who has blogged about Author Solutions and its subsidiaries in incredible detail here).
Author Solutions Subsidiaries & Brands: AuthorHouse, Trafford, iUniverse, Xlibris, Palibrio, BookTango, WordClay, FuseFrame, PitchFest, Author Learning Center, and AuthorHive.
Vanity Presses powered by Author Solutions: Archway (for Simon & Schuster), Partridge (for Penguin), Westbow (for Thomas Nelson/HarperCollins), Balboa Press (Hay House), Abbot Press (Writers' Digest/F+W Media), Dellarte Press (Harlequin).
Customer Service/Marketing Packages by Author Solutions: BookCountry, Lulu.
Companies which recommend Author Solutions: Sony, Overdrive
Publishers with vanity presses run by Author Solutions: Simon & Schuster, Penguin, Thomas Nelson/Harper Collins, Hay House, Writers' Digest/F&W Media, Harlequin.
Conferences/Festivals that allow Author Solutions scams: Toronto Word on the Street, Miami Book Fair International, LA Times Festival of Books, Tucson Festival of Books
Companies which run Author Solutions ads: London Review of Books, Guardian Weekly, Library Journal, Kirkus, Publishers Weekly, New York Review of Books, Readers' Digest, ForeWord, Clarion, Ingram, and the New York Times.
Instead of blaming the victims, we should remember how vulnerable we were when starting out. We should remember how little we knew about how publishing really worked. Remember the deceptive methods Author Solutions uses to ensnare customers (practices which have landed Author Solutions and Penguin with a class action suit).
Look at the list of companies above. And then read this story from The Bookseller about a UK agent referring rejected authors to vanity presses.
Still think it's the victim's fault?
What can you do?
There are only so many hours I can put in to digging into the huge web of deceit that surrounds Author Solutions, and that pales in comparison to the amount of time Victoria Strauss and Writer Beware have put in on this issue. It would be a full time job for a whole team of people, to be honest.
We need the whole author community putting pressure on these companies. Because the Authors Guild isn't going to help. Not when they are in partnership with Author Solutions.
It's down to us. So ask Publishers Weekly when they are going to stop taking ads from vanity presses, ads which Author Solutions re-sell for $16,499 to authors. Email them and ask them. Even better, confront them publicly. Hound them on Twitter. Annoy them until you get a response. Post it on your Facebook Page. Post it on their Facebook Page.
Ask the LA Times Festival of Books what they think about Author Solutions scamming writers out of a million dollars at their event. Ask them on Facebook and Twitter what they are going to do to stop that happening again this year. Ask all the companies listed above about their links to Author Solutions.
Then ask the Authors Guild when they are going to break their silence on this issue, why the only advice they give on self-publishing is a package with iUniverse, and if they receive any financial benefit from such referrals.
And keep asking until you get answers.
Update: Here's a sample tweet to give you the idea, which you can also retweet yourself.
Kudos to @TheBookseller for refusing Author Solutions ads. When is @PublishersWkly gonna do the right thing? http://t.co/Z3A7u4bpsg

— David Gaughran (@DavidGaughran) February 14, 2014