Here are all the wonderful platform building resources I recommended in Following (affiliate links throughout).






Before we get into the nitty gritty, this podcast I did with Diana Wink at Story Artist on the topic of author platforms is probably the best one I've done on the topic, and gets into some things I only touched on in Following too like blogging and SEO and topic recycling, as well as newsletters, Facebook Pages, and websites. Diana did a great job in editing down our conversation into something logical and digestible: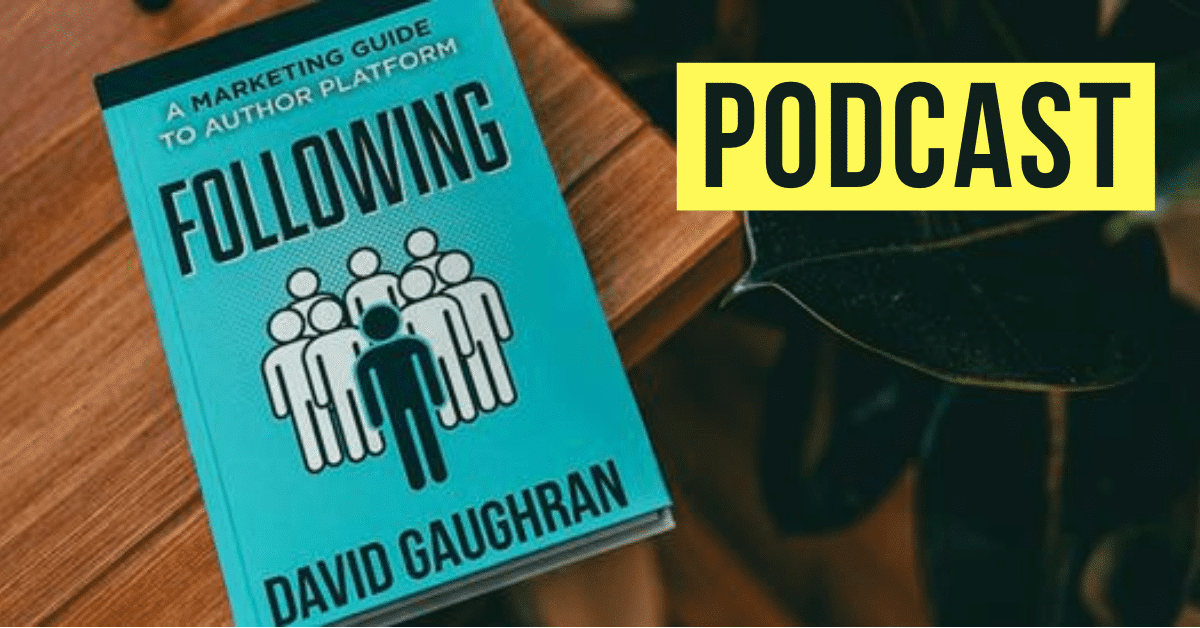 And if you need a quick refresher on author platform basics, here's a quick guide I did on my YouTube channel:
Note: As I said in Following, many of the links here are affiliate links. But all of these products and tools and services are ones which I personally use and recommend.
Oh, and if you stumbled across this private, subscriber-only section of my site, then sign up to my newsletter to make sure you get all my future emails and useful freebies, including your very own legitimate copy of Following. And perhaps give me some wedding crasher tips!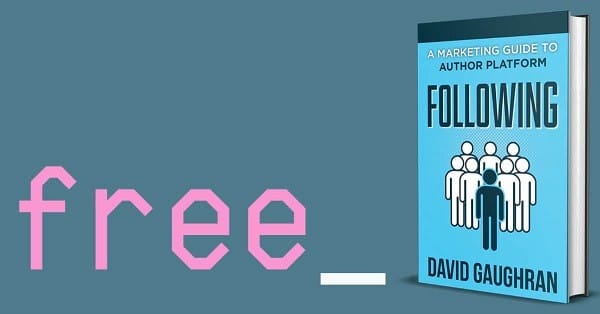 Website

For a proper website that you can easily update yourself without hiring an expert, one that will grow with you over time, you need a domain, hosting, a CMS, and a website theme. My recommendations, and a couple of alternatives where applicable:
Domain
Namecheap is by far the best although a domain from any reputable provider will do. Just watch out if you are using redirects as not every service handles these well (like a service I used before which you might know: GoDaddy, who I definitely don't recommend).
Hosting
Siteground is my #1 choice, but Bluehost is popular too. I think Siteground beats Bluehost in most categories, but it's your call.
CMS
WordPress is definitely the pick here. Go with Squarespace if you absolutely insist on an alternative but I think the case for WordPress is absolutely clear if you are serious about this. Please don't use the likes of Weebly which will only hold you back.
Theme
I definitely need to give a range of options here.
Divi is the most popular theme in the world, and certainly was the #1 choice when I canvassed a large group of experienced authors; it powers lots of lovely websites and in Authorland. Divi costs $249 for a lifetime license, or $89 a year if you prefer less upfront cost/commitment.
I'm using something else: an amazing WordPress theme designed for authors by GoCreate.Me – which is run by indie author (and literal WordPress wizard) Caro Bégin – and that site also has lots of cool, free resources for website-building authors you should check out. My specific theme was custom-built by GoCreate.Me, and you too can hire Caro to set up and style your site to match your brand and your books. Custom themes start at $599 (one-time fee) and include all the features you need to succeed in your author career. Caro will set up your site, answer all your technical questions, give you video instructions so you'll know how to update your site on your own when you need to, and is just all-round brilliant to work with, if you ask me.
ThemeForest has almost 50,000 themes, if you want to see the full range of what's out there – some starting as low as $2. You'll have to kiss a lot of frogs with this approach, but, as with anything, you can spend time or money to get to where you need to be. Personally, while I usually like spending time rather than money and figuring things out myself, the choice of themes out there is pretty overwhelming. If I had been recommended either of the above two options when starting out, it would have saved a lot of pain.
Have lots of money to spend? You can get everything taken care of for you and get a superb custom WordPress site built by Austin Design Works who have done amazing work for a few authors I know, but that will set you back significantly more (i.e. $1,200-$1,500+). Note for anyone hiring someone to do everything: make absolutely sure that your designer (a) builds the site on WordPress, (b) uses a theme that is user-friendly enough that you can easily go in and update content yourself, and (c) understands the needs of authors today. Of course, that comment doesn't apply to Austin Design Works who definitely know what they're doing.
On a very tight budget? The full package recommended above might top out at around $300 upfront and recurring fees of around $60 a year after that – which is an incredible price for what you are getting. But if your budget doesn't stretch that far, then start with free WordPress. You won't have to pay anything for a theme or for hosting. Your website address will be in the form of AuthorName.wordpress.com, but you can upgrade to AuthorName.com for $4 a month and get access to a few more features too, if you like. This is how I started out – yes, even with that fugly website address – and it's perfectly viable if you are broke (I was so broke), but please take my advice and transition to your own self-hosted WordPress when you find your feet and have a little more to spend. Read my tale of woe in Following to see the cost of leaving that too late. The drawback of going this route is that you will be quite limited in what you can do with your website in terms of customization and features, but you can build a website that will suffice, for now.
Desperate to make things simple? You can just buy your domain and your hosting and your theme directly from WordPress, but you will be paying a good bit more for a lot less features, basically. A teeny bit less hassle is the plus side.
And everyone straying from my direct recommendations should keep in mind that not all themes are equal and you want something that is responsive (i.e. looks great on mobile, flexible (so it can do that weird collection of things authors need), and easy to use (so you can update it without tearing your hair out). Which is why I recommend the first two picks. I have made the mistake before of spending good money on a flashy looking theme without getting a proper recommendation from a fellow author, and it ended up being a big waste of money.
Make sure the theme you choose can do what you want. Or just stick to one of my two recommendations above. And try and steer clear of any theme/service which charges hefty monthly fees. There's one particular service marketed heavily towards authors which charges a frankly astonishing $59 a month (and then only lets you use it on one site!) when you can get the most popular theme in the world for a third of the price, on a lifetime license too. There are better ways to spend your money.
Setting Up Your Website
Support at Namecheap and Siteground is excellent and one of the reasons I recommend both companies; they will help you get your domain and hosting all set up. Next you will need to install WordPress, and then your theme.
Many people get someone to help them with this particular stage as it can get technical, but if you want to learn it yourself, here is a free course from GoCreate.Me.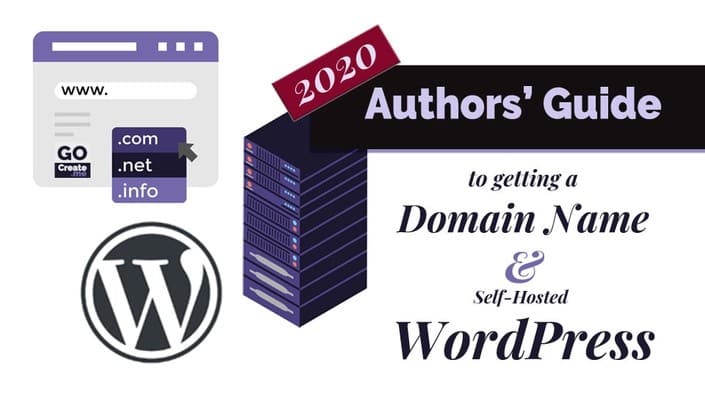 Once you have installed WordPress and your chosen theme, the final stage is both fiddly and fun: importing all your website content – books, biographical info for your About page, and so on. All that is fun, obviously, but getting it to look good can be the fiddly part.
One important thing on that front: you don't need large, hi-res images for the internet at all. You should use small, optimized images for your website, so that it loads faster, which in turn will rank you higher on Google, as well as providing a better user experience – especially on mobile. More on that here.
Take your time, when you get frustrated take a break, and don't be afraid to ask for help in the comments – I should be able to point you in the right direction, at least.
At the same time, you should be setting up your newsletter and thinking about what content your readers might enjoy.
Newsletter

My recommended resources for newsletters are:
I have some of my own resources to help you too. This post on the power of email marketing is a good starting point – particularly for anyone still skeptical about whether email is really All That.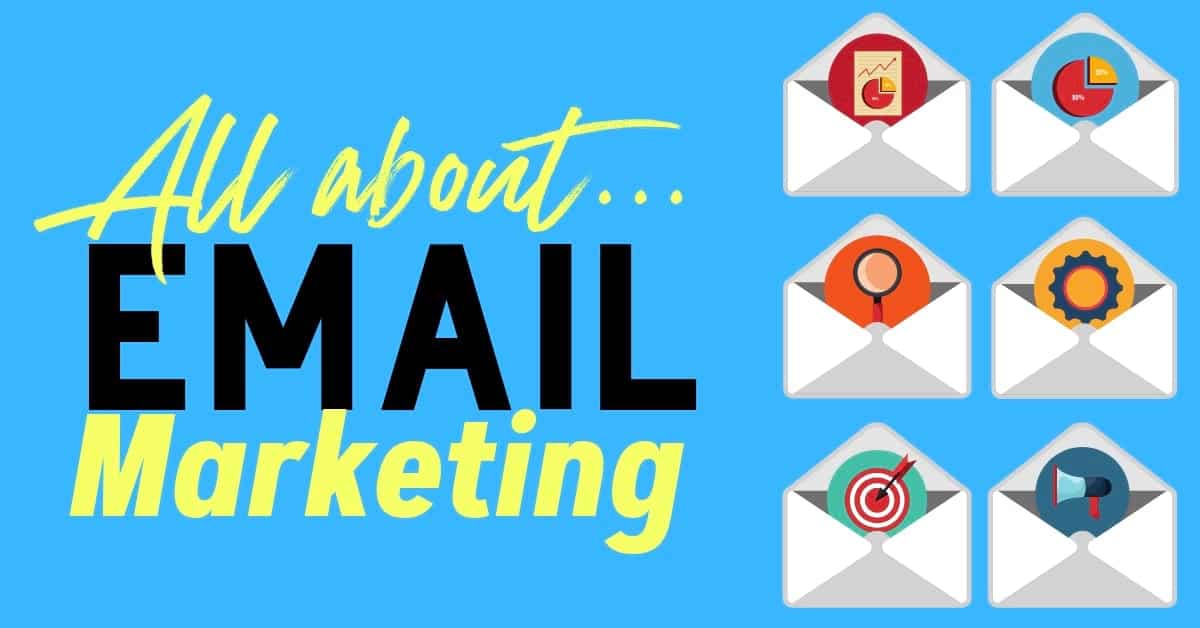 And then the seven-part series I did on email marketing for my list covers a whole range of best practices for you to pick from. You'll find that in the Email Archive.
Also, this blog post has lots of great ideas to improve your email open rates.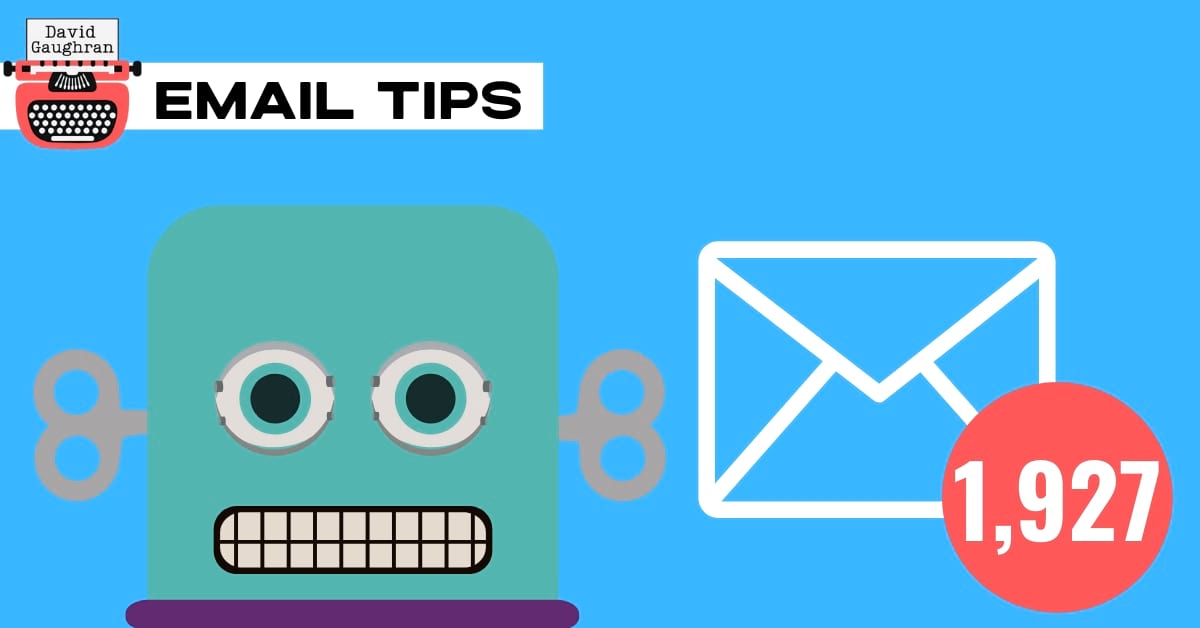 And then when you start getting really good with email, check out this post full of expert tips to take your email game to the next level.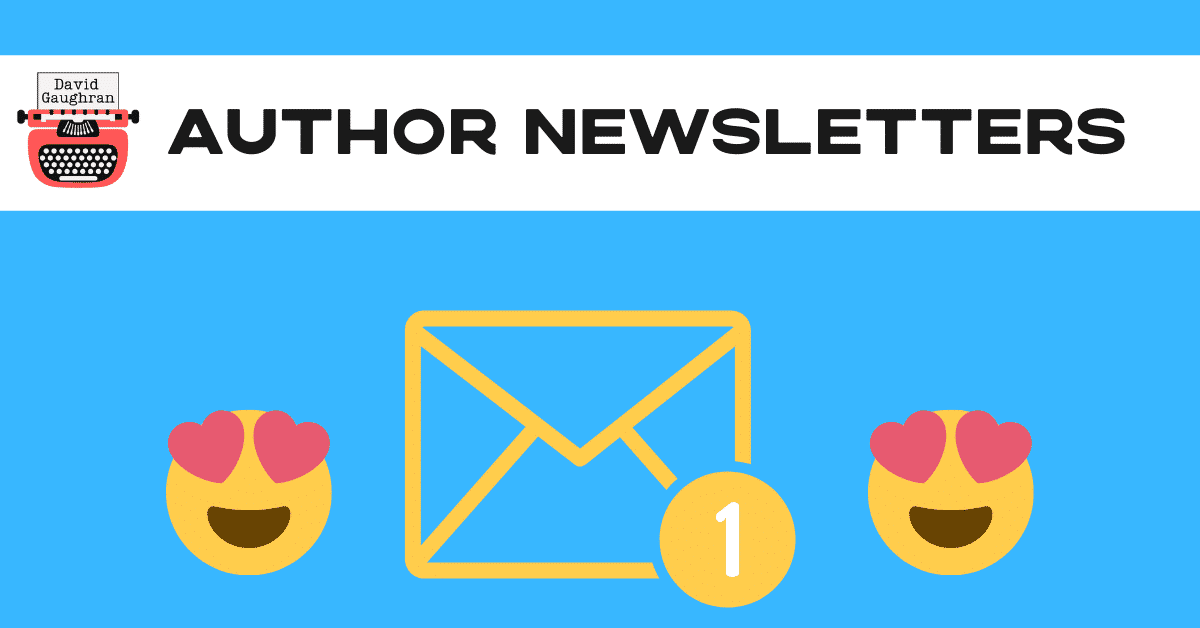 Take your time and work your way through Newsletter Ninja and my series of emails if you want to go beyond what was in Following. It's a whole approach, an entire philosophy of email you need to marinade yourself in until it becomes second-nature. Don't worry if this process takes time! That's totally fine; you have time. This is something you will work on – and benefit from – over your whole career. (That goes for every aspect of your platform.)
Setting Up Your List
The good people over at MailerLite have a veritable treasure trove of Help Pages and video tutorials, covering both every aspect of how to use MailerLite specifically, as well as general email best practices (to the extent that those with other services should nose around also).
That should be your first port of call with any issues (also, their Chat Support is legitimately brilliant – and will give you a quick answer 99% of the time which is a godsend when it comes to the frustrations email problems can cause).
Here's my recommended order for the tasks you need to accomplish:
Open your MailerLite account.
Authenticate your domain (see the Help Pages for exact steps).
Create two Groups on Mailerlite: Main List and Welcome Sequence (actually call them something else though).
Draft a brief welcome sequence. Maybe three emails to begin with – one delivering your reader magnet (more on those below), one checking in a couple of days later that they got their book and sharing links to your website and social channels and books on Amazon, and then one "previewing" what the content of your newsletter will be like. I recommend just 2-3 days between each email so you can "warm up" all the newbies. This sequence can get more involved as you grow and get more experienced.
When the writing is tight, import it into the Automation builder and set it to fire when someone joins your Welcome Sequence group (which will happen when they fill out the form on your site… which we'll get to in a moment). Make the last step of the automation be to move the subscriber over to your Main List.
When your automation is done, generate the sign-up form for the Welcome Sequence group (not Main List!).
Install the form on your website. Make sure this is a clean, crisp, distraction-free page where literally the only way for readers to escape is by giving their email. Bwahahahaha!
Link to that page from the back of your books, with enticing sign-up language.
Update all your bios everywhere (like Amazon etc.) to append something like "Go to FancyPantsAuthor.com to get a free book."
Test, test, test! Test your form, test the link to the page with the form. Test each email in your sequence (to check it gets delivered, and doesn't drop into Promotions). Test the bejaysus out of everything.
Now start thinking about what you're going to say to all these readers every month! You don't have to plan all your emails in advance or something, but I keep a Word doc with bullet points of future email ideas, and quickly add to it any time I get more. It means I never run out when the well actually goes dry, as happens, sometimes.
And for more specific examples of the kind of content you could send to readers – to get your brain whirring – check out the advice below in the section on Facebook with regard to content marketing. The same principles apply there as with email. You'll figure out pretty quickly which bits of content fit better as an email versus a Facebook post (for me, I send all the best stuff by email, and keep all the little scraps for Facebook).
Reader Magnets Redux
Let's talk a teeny bit more about reader magnets as they are so important, but something an author might decide to kick down the road. I urge you to reconsider.
A good reader magnet – one that is attractive to readers and exclusive to your mailing list – can drive an incredible amount of sign-ups for you over time. It's just such a big value-add that will get all sorts of reader to sign-up to your list who might never have considered doing so.
Some people have spare books or short stories gathering dust, or slumming it in the telephone number ranks on Amazon. I had a standalone that was doing nothing for me, and wasn't really connected to anything else, so I pulled it down from Amazon and turned it into an exclusive reader magnet. Now more people are reading it than before, and it's making more money for me too, even though I'm giving it away, because it's driving sales of my other books.
Often the best reader magnets are custom written for the job – and I've done that also. Sometimes it even becomes part of my publishing cycle. For example, my previous reader magnet for authors was a book called Amazon Decoded which I wrote in four days (it was short, and a topic I could write on from memory).
I gave that away for free for over two years to over ten thousand authors, many of whom provided invaluable feedback (I requested this in the end matter). Then this year, I expanded it to a full length book based on that feedback, and published it as a full price book – one which had a large audience waiting for it, even though it was previously free.
This is only the tip of the iceberg with reader magnets. Non-fiction authors especially can go wild here – designing content-specific magnets on all sorts of micro-topics, and then dangling them at the end of high-traffic blog posts, for example.
Even fiction authors can get very creative. I've seen some offer one type of magnet for new-to-them readers (on their homepage), and then offer a totally different one that would appeal more to existing fans (at the end of their books).
Some authors even give away things that are like "fan catnip" – spaceship schematics for a space opera, case files for a police procedural, honeymoon diaries for a steamy romance; the possibilities are endless.
Facebook

The two keys to Facebook – the initial phase at least, before you start grappling with the ad platform later on – are to regularly post content that excites your fans, and then just to make everything… pretty. While it's not quite as visual a platform as Instagram, professional looking graphics make all the difference on Facebook.
First step: making your Facebook Page look good.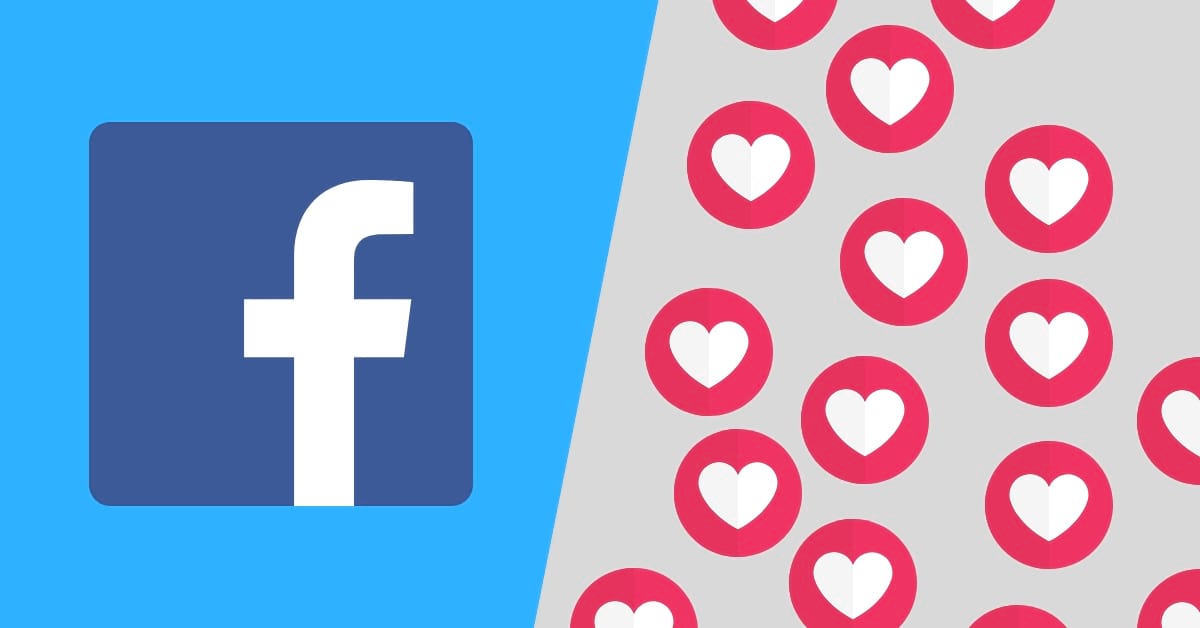 To help with the above, this video tutorial is nominally about making Facebook ad graphics, but the exact same method can be adapted to make a nice header graphic for your page (or for your newsletter, or website).
This is the (free) tool I was using to make graphics: Canva – seriously, even if you are in no way artistic, check it out. I can't draw a straight line with a ruler, and Canva somehow gives me the skills to make all my ad graphics (and everything on this site too).
I also recommend this post with 12 Free Design Tools For Authors.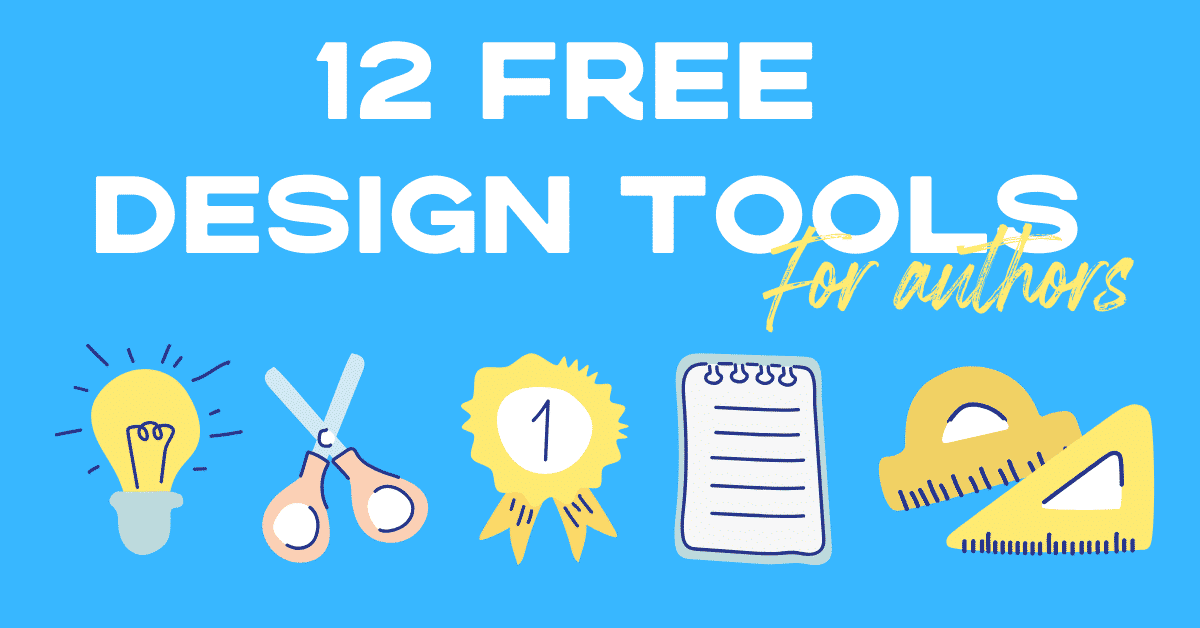 It's not just about looking pretty, of course. For a lasting relationship you need some substance too. Planning the content for your Facebook Page (or newsletter) is one of those things that sounds really hard before you do it, and much easier once you get rolling.
So let's get you rolling,
This post on Content Marketing basics covers the same stuff as the book, but might serve as a handy refresher for you.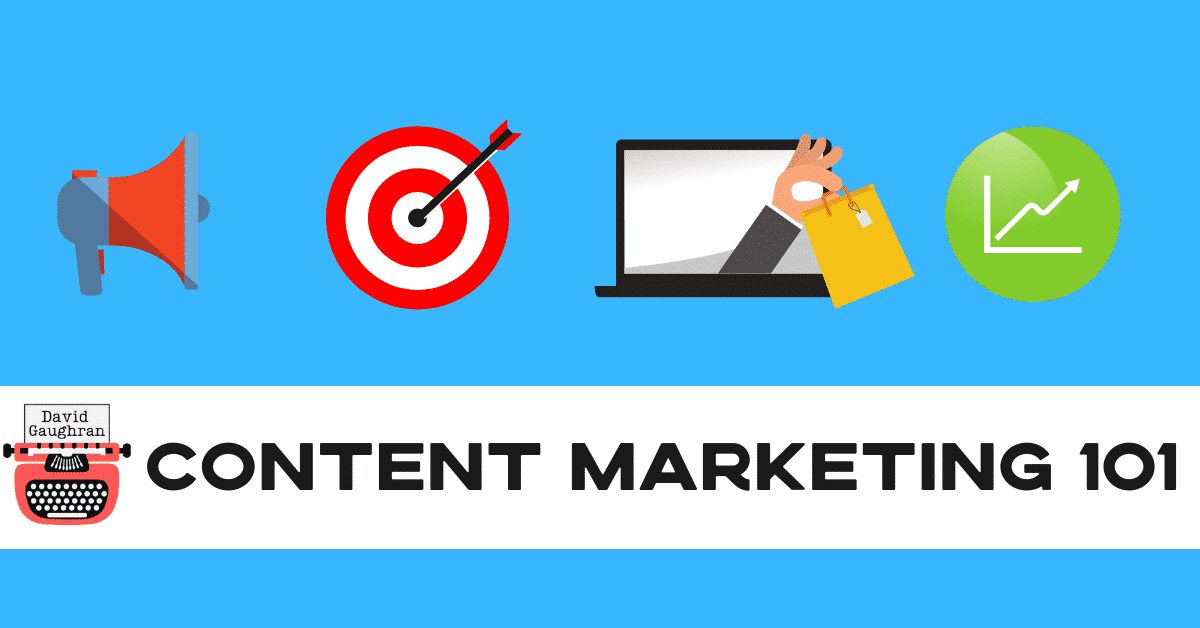 More directly useful, perhaps, might be this email I sent to my newsletter a while back, with more specific examples of content marketing for authors, rather than the basic principles above.

Finally, I did a whole email series on Facebook for Authors which is 100% free, and is actually ongoing and up to Part 11 now. It's very comprehensive and covers the platform as a whole – ads as well as content marketing and platform building.
Feel free to explore all of it over at the Email Archive, but the most immediately relevant episodes are Part 2: Content Marketing and (optional) Part 3: Boosting Posts for Likes if you want to take your first steps into ads and boost some posts to increase the speed that Likes accrue.
Growth

Setting all this stuff up might seem like a lot of work for limited return – and it is. To begin with. But all that hard work is frontloaded. Once everything is in place, you will start getting benefits, and those will just keep multiplying and multiplying over time as your platform grows.
As with reviews on your book, organic sign-ups to you list will mostly come from people clicking your sign-up links at the back of your books, so make doubly sure that the text around this call-to-action is convincing and enticing, rather than stale or tired or apologetic.
That used to be a real problem for me, back when I was doing email badly. Now that I know I provide real value to my subscribers, I can be way more confident in this CTAs, and the conversion rate on same reflects that.
Provide value. Be confident as to that value. Then you'll find it easy to make the sign-up text enticing to readers.
You will also get some organic sign-ups via your website, separate from the traffic you push their from the back of your books. It's a good idea to have another sign-up box in the sidebar of your homepage, or otherwise very visible.
As you can see on my own site, I have the sign-up box in the sidebar of my homepage in a very visible spot, then again in the footer, and again in the sidebar of all blog posts, and then once more in the navbar at the top which will be on most pages of my site. I could also have it in the sidebar of pages like this, but there's no need – everyone here will be a subscriber already. There's little chance of someone missing my sign up box.
I do something similar on my fiction website, just less full-on overall. Although that's mostly because I have less content on that site, as it doesn't have a blog or very much content beyond the books, links to social media, and my sign-up page/homepage. That's all I really need on the fiction side.
Of course, you should also link your Facebook Page to your sign-up page/homepage (you can do that via the handy button in the bottom-right of the Cover Photo at the top of your Page), and then occasionally drive sign-ups by posting about your exclusive free book, or your exclusive newsletter content – it's wise to alternate the focus and keep things fresh.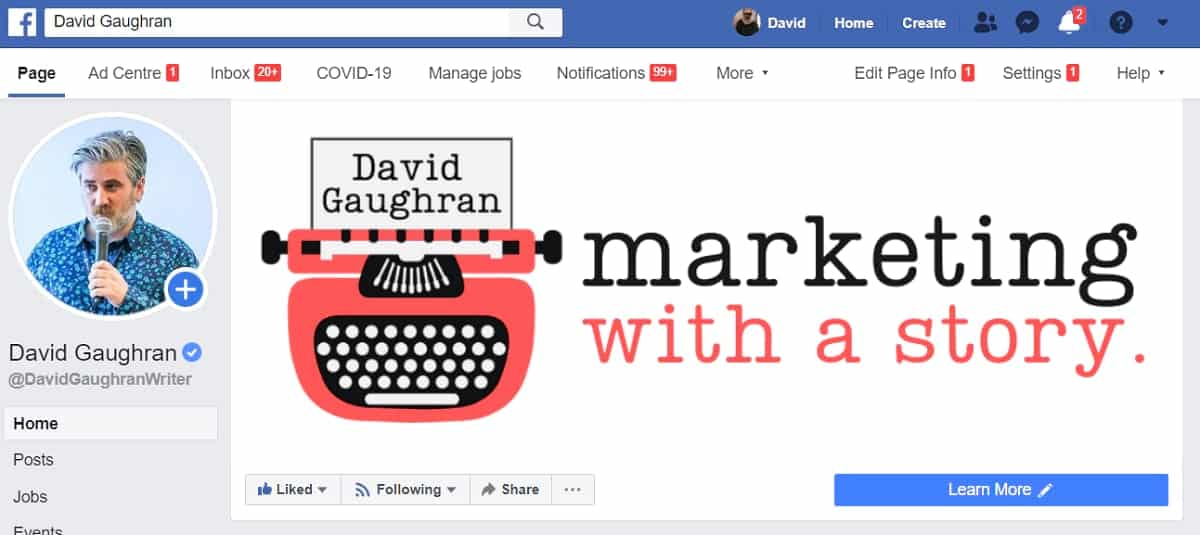 And then, of course, you can push people to your Facebook Page every so often from your list, and if you are a non-fiction author like me who has an on-topic blog, or otherwise gets deeper into content marketing for whatever reason, then you can use your blog/website to push sign-ups and Likes, your Facebook Page to push sign-ups and blog/website traffic, and your mailing list to feed the other two also.
Everything helping the other grow. And you can repeat that symbiosis with every channel you add to your platform, whether that's YouTube or Instagram or something else.
That's how you grow organically, and horizontally if you like. What about when you want to grow vertically? Let's look at some options for growing your platform a little faster.
Paid Growth (Optional)
The best way to grow your platform is organically – that will always be the highest quality sign-ups, Likes, or website visits. But organic growth can take time and there are some paid options out there which I think are useful.
Let me preface this by saying two very important things.
I think you would be absolutely crazy to spend any money growing your list (or your Facebook Page for that matter) until you have everything above in place. It makes zero sense to do a list-builder promotion, or something like that, when you don't have a cool reader magnet, a great welcome sequence, and some kind of content plan to keep them engaged until your next launch.
I think you are better off spending money growing your sales than growing your list – more on that below.
There are some exceptions though.
BookSweeps promos are the best list-builders around. They cost around $50, but they take care of all the work and you'll get hundreds of top quality sign-ups from each promotion (I got around 800 the last time). Aside from the odd BookBub Follow promotion, list-builders is all they do and they are very good at it. They have genre-specific promotions running constantly, and seem to update the promo calendar every couple of months. The only real drawback is that they sell out fast; consider signing up to their list to get a ping when the new promos drop.
LitRing occasionally runs list-builder promotions too, which I've used and found valuable – along with their permafree pushers, and BookBub Follow promos. These usually cost around $25, which is a great price considering LitRing also does all the work here. As with BookSweeps, you are encouraged to share but it isn't compulsory.
BookFunnel provides a platform where anyone can run a list-building promotion, and there are promos running constantly, most of which are free. The drawback is that (a) promotions require you to share the promotion with your list which is a problem when (b) the quality of participants can be extremely uneven, to put it diplomatically. You can get around this by organizing your own promo publicly and curating strongly, or even doing one privately with hand-picked participants.
Mostly though, I prefer spending money to grow my sales, and working the angles for organic growth. My biggest and best and most responsive lists are 100% organic.
Sales Growth (Preferable)
A better way of growing fast, in my opinion, is simply to grow your sales. Instead of spending money on Facebook Ads growing your list, for example, I think you are far better off spending that money to grow your sales directly, which will in turn grow your list anyway while also generating revenue, without having to wait too long to collect it either.
By the way, to repeat my caveat from above, I think you would be just as crazy to spend money on increasing sales until you have taken care of everything suggested above. Even if the promo itself goes perfectly, you will waste a golden opportunity to get lots of people on your list and keep them engaged from the moment they sign up, so that they are primed to buy your next book, and all your other books too.
Best Book Promo Sites in 2020
I'll be launching a very cool resource next week aiming at helping everyone sell more books and create promo plans which will drive sales for them.
Until then, check out this monster list of the very best promo sites for your freebies, discounts, series, and mailing list needs.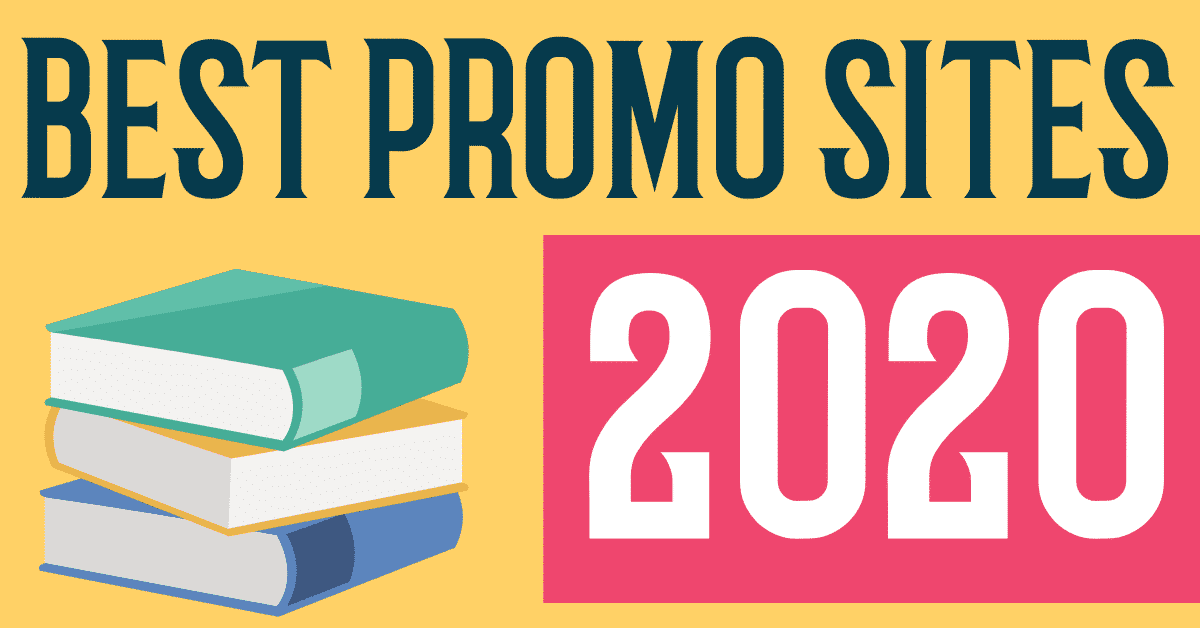 Questions

Pop your platform building questions in the box below. I'll get a ping right away, and answer you once I'm done writing and/or carousing.