Barnes & Noble's self-publishing platform – Nook Press – launched a selection of author services last October including editing, cover design, and (limited) print-on-demand… without disclosing that some services are fulfilled by the gigantic vanity press operation Author Solutions.
This post is from 3 March 2015. It has not been updated except to clean up broken links, but it's important to preserve these older posts on author exploitation. Comments remain open.
Absent that disclosure, immediate speculation surrounded who exactly was providing these services, with many – including Nate Hoffelder, Passive Guy, and myself – speculating it could be Author Solutions. However, there was no proof. Until now.
A source at Penguin Random House has provided me with a document which shows that Author Solutions is secretly operating Nook Press Author Services. The following screenshot is taken from the agreement between Barnes & Noble and writers using the service.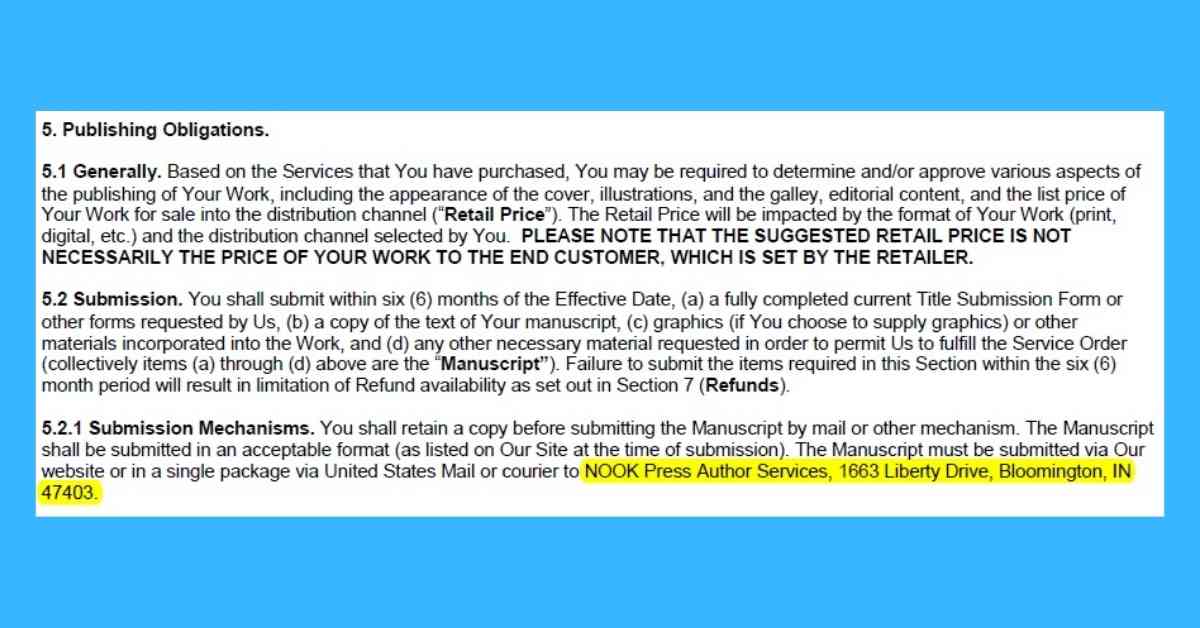 You will see that the postal address highlighted above for physical submission of manuscripts is "Nook Press Author Services, 1663 Liberty Drive, Bloomington, Indiana."
There's something else located at that address: the US headquarters of Author Solutions.
Barnes & Noble has never disclosed that Author Solutions is providing these services, either in the press release announcing same, the communications to Nook Press users, or on the site itself.
Indeed, Barnes & Noble refused to respond to three separate requests last November for information on same from Nate Hoffelder of The Digital Reader.
Also, Barnes & Noble fails to disclose Author Solutions' involvement to authors purchasing these services. The Nook Press Author Services site goes into great detail about these services but never once mentions that Author Solutions is fulfilling them. In fact, the way the FAQs on the site are worded makes it sound like Barnes & Noble/Nook Press carries out the work itself – which is extremely misleading.
Finally, authors who use Nook Press Author Services are not informed that their personal details are shared with Author Solutions, along with explicit permission to use those personal details to upsell Author Solutions' infamous marketing packages.
Theresa Horner – the General Manager of Nook Press and VP of Content Acquisitions – led the negotiations with Author Solutions, which concluded in October last year. When making the announcement, Horner explained to Publishers Weekly that Barnes & Noble plans to further expand the services offered by Nook Press to its users.
As with the press release, the communications with Nook Press authors, and the on-site information, Horner didn't disclose that fulfillment would be outsourced to Author Solutions.
Horner's employment with Barnes & Noble ended right after the deal with Author Solutions was concluded, but the contract between Nook Press Author Services and its users confirms her statement that Barnes & Noble plans to expand the range of services. There are clauses relating to all sorts of other services not currently offered, such as distribution of print titles and royalties relating to same, and it's clear that Author Solutions will be fulfilling those services too.
It's not hard to figure out why Barnes & Noble has gone to such great lengths to hide its partnership with Author Solutions – following the exact playbook when Lulu struck a deal with Author Solutions in March 2013.
Author Solutions has a terrible reputation in the writing community for the deceptive methods it uses to ensnare authors, its sub-standard and over-priced services, and its high-pressure sales tactics aimed at selling completely ineffective (and ridiculously expensive) marketing packages – and nothing has changed under Penguin Random House's ownership.
All of this has led to a class action which has been running since 2013. Author Solutions, and its corporate parent, has attempted to get the class action dismissed on numerous occasions, but the case is still ongoing and the plaintiffs filed for class certification last week.
You might why Barnes & Noble didn't run a mile from such a disreputable company facing a significant class action, but don't worry, Barnes & Noble's lawyers are on it: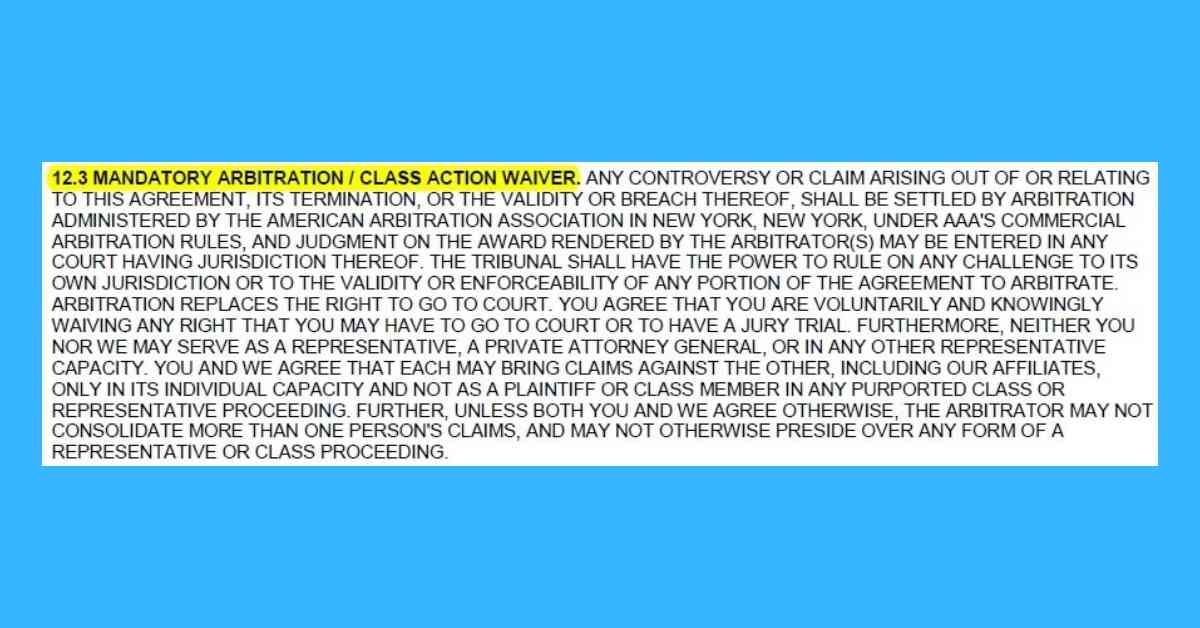 It's a pity such diligence didn't extend itself to protecting the position of Nook Press users and finding a reputable service provider.
Barnes & Noble has now sold out to the worst possible company. In case it's not clear what Author Solutions is aiming at with a deal like this, let me quote from the papers filed in the class action. Here's further proof of the deal (AS = Author Solutions).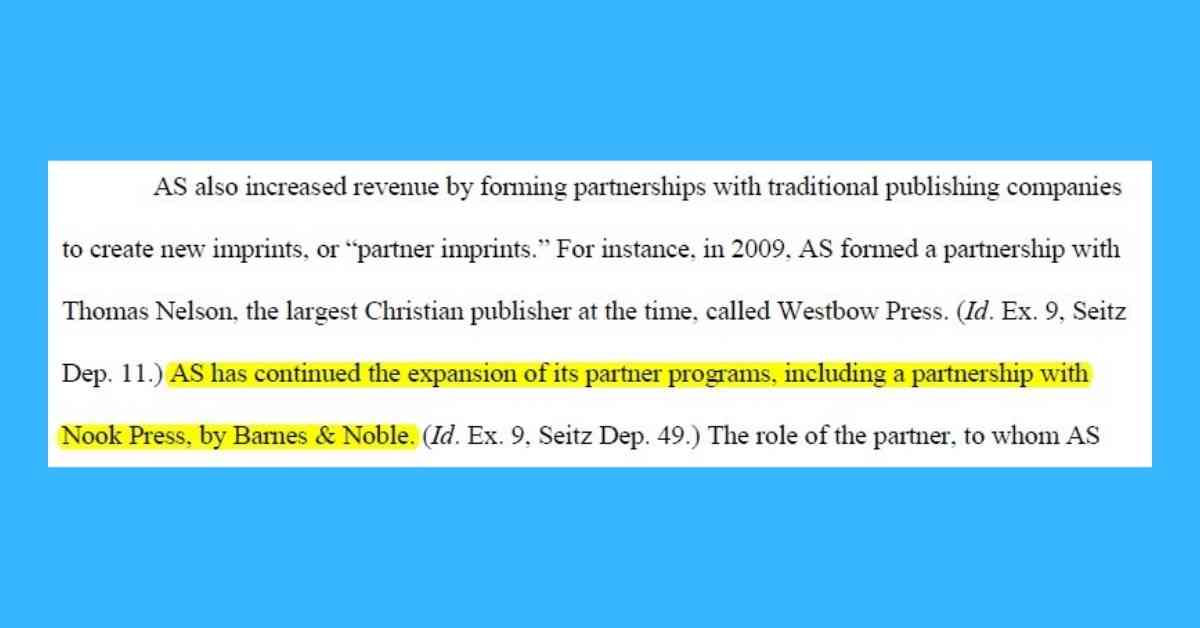 And here's the part which makes explicit Author Solutions' aims with such deals. Partnerships like this are all about lead generation: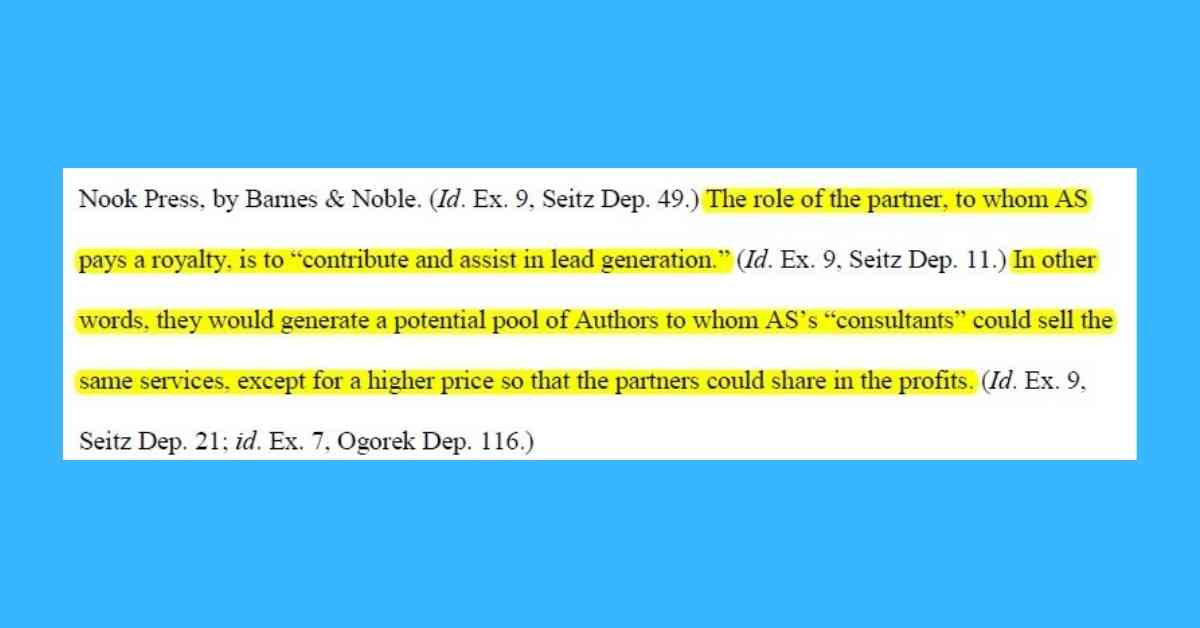 Those statements are based on depositions of key Author Solutions executives, taken during the discovery process which concluded in January. The depositions specifically referred to above are those of Keith Ogorek, Senior Vice President of Marketing, and Don Seitz, Senior Vice President of Worldwide Sales. Both report directly to Penguin Random House's company man, Author Solutions CEO Andrew Phillips.
I'll be talking more about what those depositions revealed over the next few weeks, but if you would like to read the (lengthy) documents yourself, the Plaintiff's Memorandum of Law in Support of their Motion for Class Certification is here (PDF) and the deposition excerpts are here (PDF).
And that's not all.
As mentioned above, the agreement that users of Nook Press Author Services have to sign makes explicit provision for sharing of personal data with Author Solutions for the purposes of upselling further services. Which means Nook Press users can look forward to being bombarded with phone calls and emails to buy useless YouTube advertising packages and worthless Hollywood pitching services.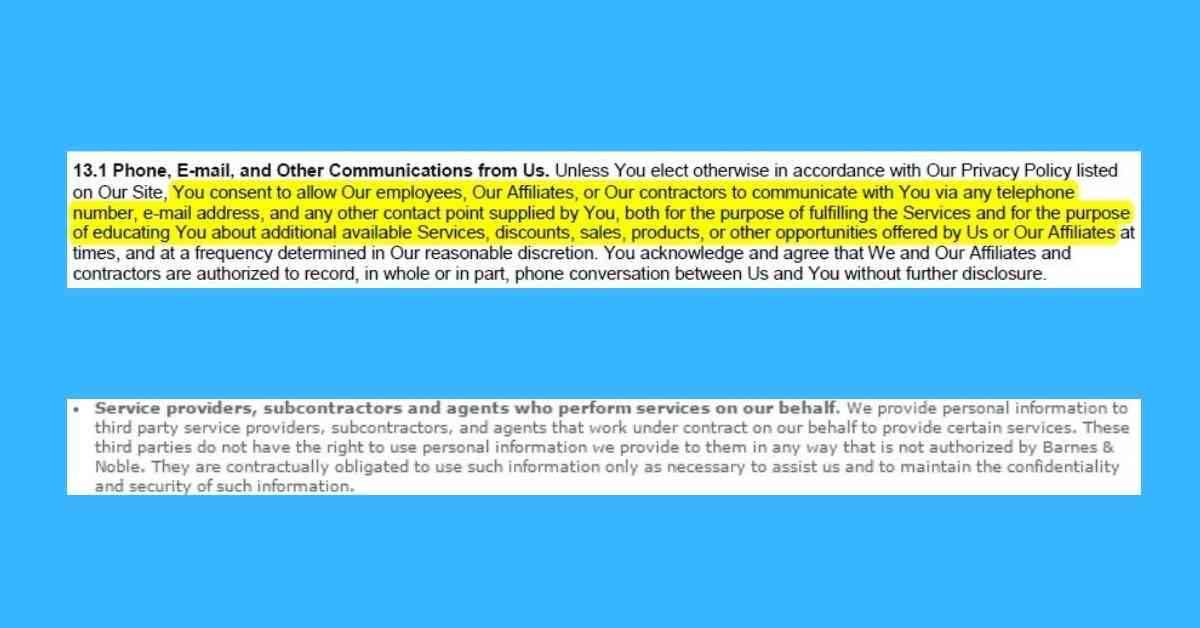 If you think you are safe because you have never used Nook Press Author Services, and don't plan to, I'm afraid that's not the case. I'm not a lawyer, but under my reading of the terms of the Nook Press Privacy Policy, Barnes & Noble already has the right to share the personal information of all Nook Press users with third party suppliers like Author Solutions.
We have come to expect this kind of shady behavior from Author Solutions, but Barnes & Noble should be ashamed of themselves.
A line in the sand needs to be drawn. Partnering with Author Solutions is not acceptable. Hiding that partnership from users of Nook Press Author Services is not acceptable. Sharing Nook Press users' personal information with Author Solutions is not acceptable. And that message needs to go out very clearly to Barnes & Noble.
Meanwhile, avoid Nook Press Author Services like the plague.